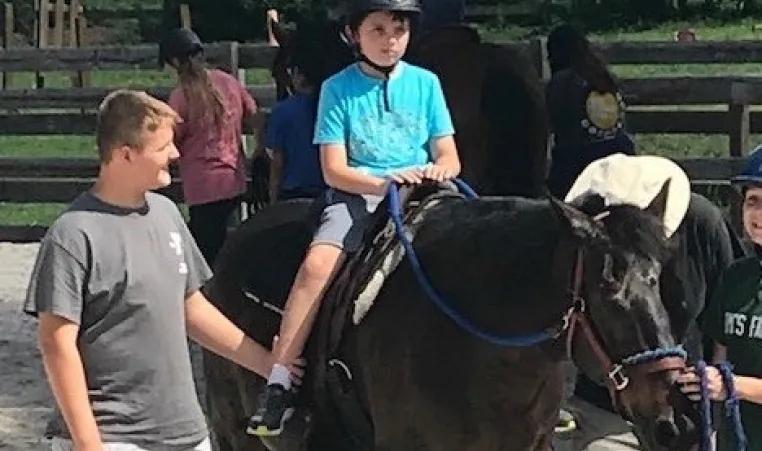 Karen Reed did a lot of research before signing up her 8-year-old son, Liam, for Camp COAST (Children on the Autism Spectrum Together), a summer day camp entering its 13th year at the Clearwater YMCA.
Held in a separate part of the Clearwater Y with special sensory lights, daily Camp COAST activities include, but are not limited to: swimming, sensory games and various events designed for children on the autism spectrum or with developmental disabilities.
Liam is in his second summer at the camp. "He loves it. It's a safe place for him to be who he is and they take excellent care of him here," Karen says.
"Our slogan here is to help make a child's disability a capability," There is no can't. Not here in Camp COAST. We never say can't," says Youth Community Engagement Director Vickie Shire. "You know you can drop your kid off in the morning and it's a safe atmosphere. That their disabilities don't matter here at camp. That we're going to help them no matter what."
Camp COAST celebrates every milestone and no milestone is too small.
"What would be small to you and I, like eating certain types of food, is a huge win for our parents," Vickie says, "because their kids are picky eaters sometimes and they're not eating and they need that nutrition or seeing that child get in the water for the first time or flushing the toilet because the sound of the toilet bothers them. Or going out in the community and sitting through a movie. We see tears (of joy) in our camp."
Parents, like Karen, have seen her son improve throughout summers at Camp COAST.
"Liam's a lot more social. A lot of kids with autism have issues with socializing and making friends but when he gets in the car to go home he's like, 'my friend and I played together!" Karen says. "It's been wonderful to see him come out of his shell and he really enjoys everything the camp has to offer. He loves the pool and horseback riding but I'd have to say his favorite things are the special field trips that they take. He went to the Florida Aquarium last week."
Camp COAST is run by specially trained staff and volunteer teenage interns.
"Some places just babysit the kids and if that's what parents want then absolutely but if they're looking to really branch out definitely talk to Camp COAST staff members and get all of the information," Karen says.
Please click here to learn more.