James P. Gills Family YMCA
Kids Zone Hours
Mon.-Fri. 8:30 a.m.-8:30 p.m.
Sat. 8 a.m.- 1 p.m.
Sun. 11 a.m.- 2 p.m.
Hours of Operation
Mon.- Fri. 5 a.m.-10 p.m.
Sat. 7 a.m.-6 p.m.
Sun. 11 a.m. - 6 p.m.
Holiday Schedule
Thanksgiving Day - Closed
Friday, Nov. 23 - regular hours
Monday, Dec. 24 - close 3 p.m.
Tuesday, Dec. 25 - Closed
Monday, Dec. 31 - close 4 p.m.
Tuesday, Jan. 1- 7 a.m. - 6 p.m.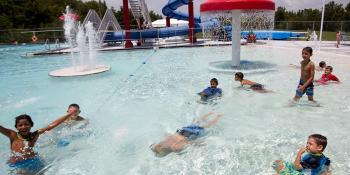 Swim Lessons
Register For Swim Lessons
HELP BUILD A BETTER US!
When you join the James P. Gills YMCA in Trinity, near New Port Richey, you belong to a place where: parents find a safe, positive environment for children; families come together and spend quality time with each other; children and teens learn what they can achieve; adults connect with friends and learn how to live healthier lives; communities thrive because neighbors support each other and give back; and we all build relationships that further our sense of belonging. 
What's new at the James P Gills Y
For more information please contact:

Julio Vega
District Vice President
8411 Photonics Drive
Trinity, Florida 34655
727-375-9622