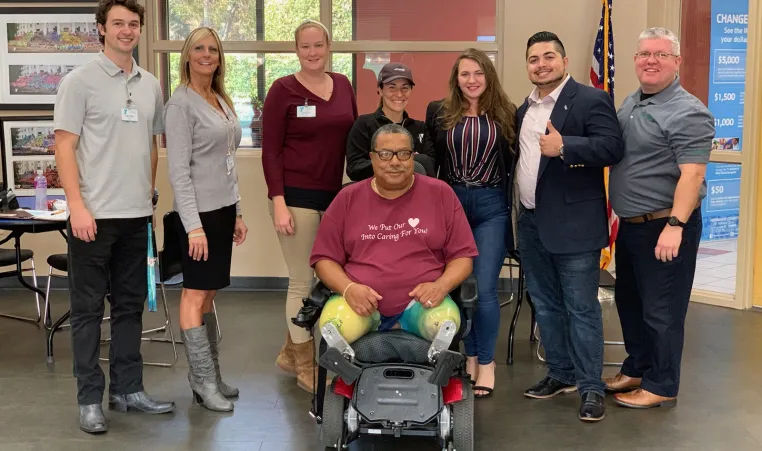 Gerry Whitted doesn't mind helping highlight his local Y. He's been a proud member of the Hernando County Family YMCA for at least two years. 
"I enter those double doors in the front where it says Member Services and I'm greeted with a 'Good Morning, 'Good Afternoon', and after that they mention my name every time. Not just 'Good morning, Gerry,' but an enthusiastic 'Good Morning, GERRY!' So, if I'm having a bad morning or a sub-par morning you can't help but have a great day after that. It's very personalized. That's my favorite part, coming here."
He describes Y members as people from different walks of life, diverse, open, very social, and warm.
"I partake in about five different activities here. I started with one. I just went to the wellness center for about 5 to 10 minutes, maybe a half hour. Now I can come at 8:30, 9 o'clock in the morning and I won't leave here until 2 pm." Gerry does weights and group exercise classes like Body Flow and Chair Yoga.
"That's because I'm in a wheelchair," explaining he lost his legs to diabetes and now wears prosthetics. "But I no longer do 'chair' yoga. I'm able to sit on the floor. It's really been productive for my life and wellbeing," attributing it to his hard work.
The convenience to his home first drew Gerry to the Hernando Y but it has since become so much else. "It wasn't too far away, I could catch the bus. I could ride in my wheelchair. And I didn't haven't to bother my wife about taking me back and forth. But afterwards, it's not even become an option to look for another facility, because I'll never be able to get the support and care and the warmth that I get here. For instance, I had total replacement shoulder surgery and while I was there, I'd get cards, I'd get emails, and phone calls. I don't think I'd get that same personal attention anywhere else," he says. 
Gerry will be featured in part of a Facebook segment called HelloHernando showcasing all the great organizations and businesses Hernando County has to offer its residents, including the 30-year-old Hernando Y. The series was the brainchild of a longtime Hernando Y member who works for Keller Williams Realty Elite Partners. 
During filming, some renovations were underway, so make sure you stop by and see all the wonderful upgrades and all the great things we have in store for 2020. Happy New Year!