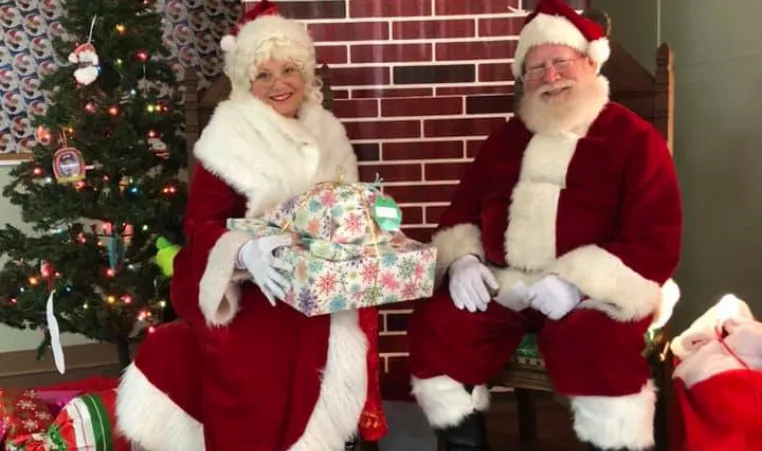 Over 170 needy children and their families celebrated the holiday season at the 1st Season of Giving event at the James P. Gills YMCA on Saturday, Dec. 7. 
The event included a visit from Santa, presents, breakfast catered by Bone Fish, arts and crafts, music, Pasco County Sheriff K-9 unit and Mounted Posse, Culver's Mascot Scoopie and face painting. Each pre-registered family that participated were asked to submit three wishes per child and the employees from local businesses purchased these items making it possible to make a child's wish come true! 
Community partners included Publix, Pasco Sheriff's Office, Bonefish Grill, Culvers, JW Mitchell High, Gator Cleaning Solutions, goSASS.com, US Water Corp, Boar's Head, Troy Glaves, Doug and Michele Chamberlin, Kekes Breakfast Café and North Trinity Storage.
Families included those from Trinity Oaks Elementary and Seven Springs Elementary School that are on the pack a sack program or free/reduced lunch, along with, YMCA members on financial assistance.
Thanks to everyone who volunteered and attended this special event presented by the Togetherhood Committee at the James P. Gills YMCA. Togetherhood provides Y members with fun, convenient and rewarding ways to give back and support their communities. Each YMCA OF THE SUNCOAST location has their own Togetherhood committee. 
Special Thank You to: the YMCA Togetherhood Committee: Steve Wojchowski, Nicholas Kaller, Jacques Hakim, Marcus Meyer, Kelly Medina, Venessa Finazzo, Yukiko Schlotter, and Jonathan Pazmino.
 
See more photos on Facebook: https://www.facebook.com/JamesPGillsYMCA/