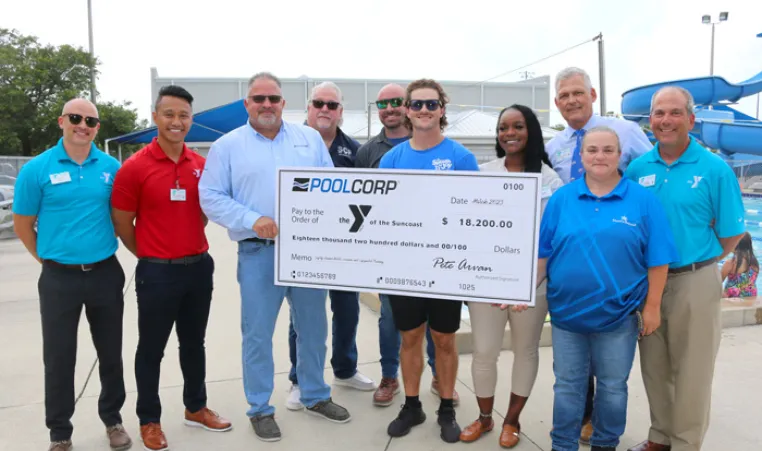 POOLCORP staff present check to the Greater Ridgecrest YMCA.

Pools and summer go hand in hand. Thanks to POOLCORP, children from underserved communities are getting the opportunity to swim this summer. The Greater Ridgecrest YMCA hosted the company on June 19, 2023, which donated over $18,000 for a second year through their Splash of Joy program. The gift will total over $54,000 over three years.

Splash of Joy funds water safety and lifeguard training in underserved communities. Each year the Suncoast YMCA provides swim lessons to 100 children throughout Pinellas, Pasco and Hernando counties. The donated funds will provide Lifeguard Training scholarships and 100 Safety Around Water (SAW) lessons for deserving children in these communities.

Bill Gifford, POOLCORP's Regional Manager for the Tampa/St. Petersburg area, was on hand to make the donation.

"We partnered with the YMCA to create Splash of Joy nationally. We think every kid should be able to swim, the YMCA is a great partner in helping us make this happen. This is our way of giving back to the community, and finding a way to help the industry we are in. We want to be ingrained in the community."

G. Scott Goyer, President & CEO, Suncoast YMCA was in attendance, and thanked the group.

"POOLCORPs' continued generous support of the YMCA's focus on water safety is saving lives. This donation allows our Y to provide swim lessons and water safety classes to the youth in our communities. We appreciate our partnership in this vital work."

Joanna Castle, Vice President Philanthropy, YMCA of the Suncoast agrees.

"We are so grateful for the support from POOLCORP to help provide free water safety education to at-risk children in underserved communities and help to prevent drowning. Through this program, children learn how to swim and are taught the necessary skills to be safe around water. The Y is committed to youth development, and life-saving programs like swim lessons are a critical component in our efforts to keep kids safe."

Tiffany Brown, Executive Director, Greater Ridgecrest Y, notes, "On behalf of the entire Greater Ridgecrest YMCA team, I want to extend a warm thank you to POOLCORP. We believe in serving our community and are thrilled we can continue to do just that with swim lessons on behalf of POOLCORP."

The event also featured swimming demonstrations from children.

Published: Tuesday, June 27, 2023.