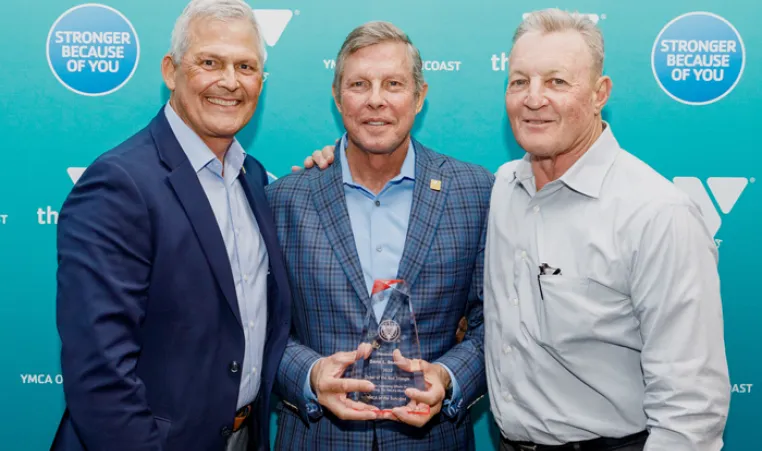 YMCA of the Suncoast CEO & President Scott Goyer, David Brandon, Order of the Red Triangle Award Recipient and Allen Crumley, last year's Order of Red of the Red Triangle winner.
 
An Evening for YMCA Volunteers  
On May 9th, 2023, YMCA of the Suncoast staff and volunteers gathered to celebrate and honor exceptional volunteers at the Annual Celebration event. Each YMCA branch awarded one adult and one youth as Volunteer of the Year to recognize their contributions and dedication to strengthening the community.

The YMCA of the Suncoast CEO & President, Scott Goyer, and Advisory Council Co-Chair, David Becker, hosted the 2022 Annual Celebration, sharing Grand Plan for Success impact highlights and their appreciation for the volunteers.
 
The Importance of Dedicated YMCA Volunteers 
Throughout the evening, the Y recognized donors, shared stories of impact and awarded volunteers for their dedication.

The YMCA of the Suncoast nurtures the potential of children, families and seniors through quality programming like lifesaving swim lessons, value base youth sports and engaging, healthy activities for the entire family. 

One event highlight was the incredible mission story about member Fred Ginman and how the Y's health and wellness programs have strengthened his entire family. The family has thrived participating in a multitude of YMCA programs and forming relationships with Y staff.
Scott and David presented awards to the 2022 Volunteers of the Year, Chairman's Award Winner to Matt Crum and Order of the Red Triangle to David Brandon.

The Order of the Red Triangle Award is given to Y volunteers who have made lasting and valuable contributions to the YMCA of the Suncoast and the communities we serve. The Y's Red Triangle symbol represents the threefold nature of a person – mind, body and spirit. 

Allen Crumley, Y champion and last year's Order of Red of the Red Triangle winner, presented the award to his longtime friend, David Brandon.

Scott shares, "The essential genius of the YMCA is volunteer support, leadership and guidance. The YMCA was founded by volunteers, is directed by volunteers, and relies on volunteers for program support and delivery. I am so grateful for those named Volunteers of the Year for 2022. Their dedication to the YMCA's Mission is an inspiration to us all!"
 
Showing Volunteers Appreciation and Continuing the Mission
The Y is able to provide quality programs and strengthen the community thanks to dedicated volunteers who donate their time, talents and treasures. Volunteers have the opportunity to give back to the Y and their community by supporting philanthropy, adult programs, teen activities, youth sports, member services and more!
The Y celebrates our volunteers and their notable accomplishments – learn more about upcoming volunteer opportunities today!
 
Published Friday, May 26, 2023.