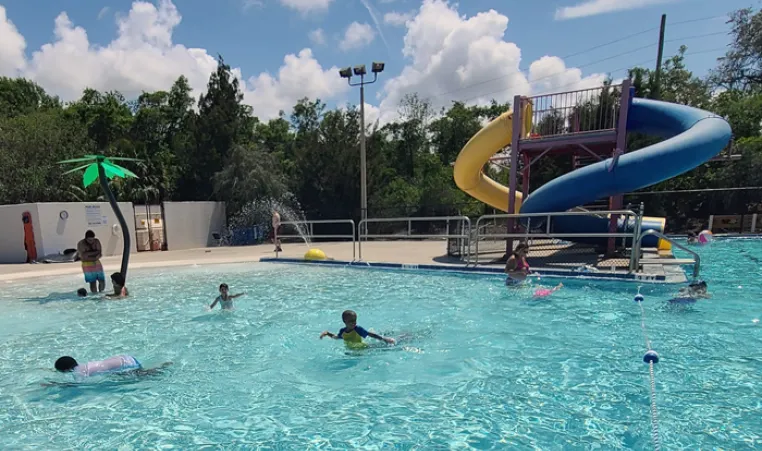 Children enjoying the pool party at Greater Palm Harbor YMCA.
 
Safe Fun in the Sun

Greater Palm Harbor YMCA kicked off summer with its first community pool party of the season!  YMCA staff welcomed children, families, members and the community to April Pools Day party on Saturday, April 1, 2023.

The party was a family affair! Attendees of all ages enjoyed popsicles, games, swimming, water safety information, friends and sweet summer fun!

Most Y members agree that there's nothing quite like the refreshing feeling of jumping into a pool or spending the day at the beach with family and friends. However, as enjoyable as water activities can be, the Y's leaders prioritize engaging members and visitors on the importance of keeping water safety an essential aspect of fun.   
Water Safety Classes
Water safety is the TOP PRIORITY for Greater Palm Harbor YMCA!

The Y believes everyone should have the opportunity to learn how to swim and be safe in and around water. That's why YMCA of the Suncoast is offering a FREE Safety Around Water (SAW) class this spring.

The SAW class is open to all 3-12-year-old beginner swimmers and non-swimmers in the community. Over the course of four days, certified instructors will teach groups of children a sequenced set of skills that will reduce the risk of drowning and give them confidence in and around water.

SAW registration is open, and families can register their  children by contacting their local Y branch.

For a successful class and proper amount of time to learn the YMCA asks participants to be present on the first day of class and bring their own swimsuit and towel.

In the meantime, the Y encourages parents and caregivers to keep these water safety tips in mind.
Learn to Swim: The best way to prevent drowning is knowing how to swim! Ensure you enroll your child in the upcoming SAW class and/or swim lessons.
 
Supervise Children: Be a water watcher! Designate an adult so children are always supervised while they are in and around the water. Drowning is the leading cause of injury-related death among children between the ages of 1 and 4 years old.
 
Wear a Flotation Device: A lifejacket is an essential safety tool for all water activities, especially for children and weak swimmers. It's important to make sure the lifejacket fits properly and is U.S. Coast Guard approved.
 
Know your Water Limits: It is important to know your child's water limits and ensure they do too! Swimming in open water can be challenging, so staying within designated areas and always swimming with a buddy is important.
 
Learn CPR: Knowing CPR can save a life in an emergency and is crucial for a greater chance of survival. 
By following these water safety tips and participating in SAW or swim lessons at your local Y, you can help ensure a safe and enjoyable summer for you and your family!  

Published: Thursday, April 27, 2023.