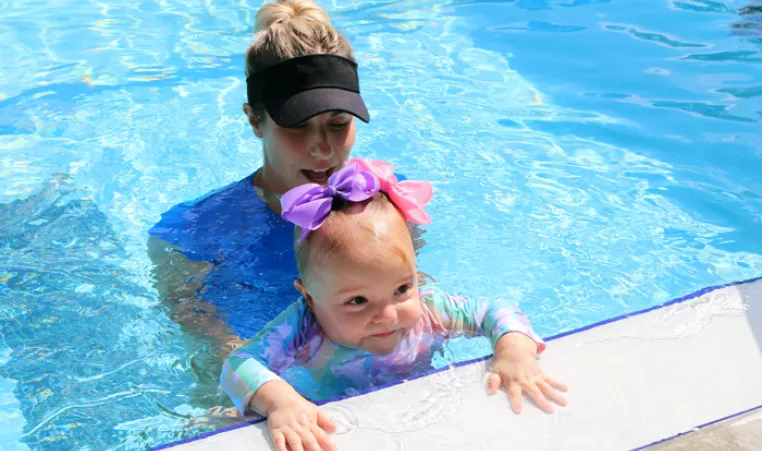 Danielle teaches infants and instructors lifesaving skills in the FLOAT class.
Tragedy to Transformation 
A tragic drowning death in 2020 led the Young family on a mission to bring water safety and safe swimming education to infants and toddlers in Hernando County. Ashley Young's 10-month-old twin boys fell into a swimming pool in 2020 and one of the babies didn't survive.

Amber Slusser, Executive Director at the Hernando Family YMCA branch, explained that Ashley was not able to find one-on-one intensive swimming lessons for her surviving son. Together, they decided the FLOAT program should be in place for families in her community.

In 2022, the Young family partnered with the Hernando County YMCA to bring the FLOAT program to their YMCA. The Youngs generously donated funds to have Danielle Gennusa, Aquatics Director at the Hernando Family YMCA, obtain her International Swimming Academy (ISA) certification.

The ISA certification allows Danielle to teach the FLOAT program and teach additional swim professionals how to teach the class.
 
FLOAT Program Expands
Today, FLOAT is expanding to YMCAs throughout the YMCA of the Suncoast Association. FLOAT swim sessions are in 10-minute increments. Our ISA-certified instructors work with our youngest community members helping them learn a healthy fear of the water and embrace getting their face wet while learning their water limits. Children will go underwater up to five times during their first class, and increase as their floating abilities improve, and water comfort levels increase. Additionally, children learn to roll on their backs, breathe and float to the side of a pool until help arrives.

The YMCA of the Suncoast senior leadership and aquatics team firmly believe FLOAT is an invaluable program that will provide lifesaving skills to infants and children.

Jeremy Marzicola, Aquatics Director at James P. Gills Family YMCA, shares that he and Emmy Wijnmaalen-Linde (one of the Gills YMCA's most seasoned swim instructors) attended Danielle's FLOAT training. Their team plans to start offering FLOAT lessons in early June when school is out.

Jeremy initially had reservations about "waterproofing" children under the age of one. However, after completing the course, he was impressed with how effective the techniques were at getting even the littlest community members to perform basic life-saving swim maneuvers.

He adds, "I believe the class has the potential to begin developing the skills necessary for self-preservation in young children at an incredibly early age, should an accident occur in or around water. The ability to bring these classes into our community and potentially save children from drowning by using these skills fits directly into the Y's continued commitment to top-notch swim lessons and drowning prevention programs."

To register your child for an upcoming FLOAT class, contact your local YMCA branch.

Published Wednesday, March 29, 2023.