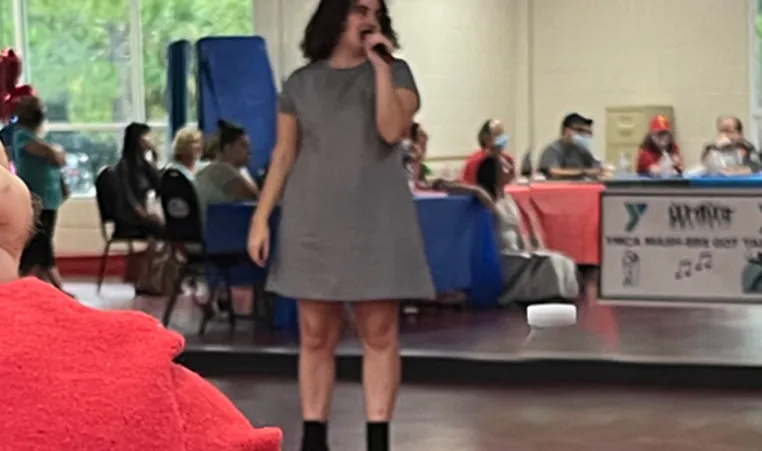 A M.A.S.H. program participant at a karaoke night social event at John Geigle YMCA.
 
Why Autism Acceptance Month is Important 
April is Autism Acceptance Month, a time dedicated to understanding and accepting people who have autism spectrum disorder. According to the Centers for Disease Control and Prevention (CDC), approximately one in 36 children in the United States have been diagnosed with autism, making it one of the most common developmental disabilities. Despite this, there are still a lot of misconceptions and stigmas surrounding the disability.

Autism is a complex neurological and developmental disorder that has a wide range of symptoms which alters an individual's executive functioning.

Some common characteristics of autism spectrum disorder include difficulty with communication and social interaction, repetitive behaviors, specific interests, outstanding abilities and sensory sensitivities.

YMCA of the Suncoast is committed to providing opportunities for ALL to grow, learn and thrive. Therefore, our programs reflect our members, their communities and their needs and interests.

Two of our top adaptive programs for children and adults who have autism are the Camp Children on the Autism Spectrum Together (COAST) Summer Camp and the Mainstream Adults Sharing Hope (M.A.S.H.) program.
Camp COAST Summer Program
Camp COAST is a summer day camp specifically for children with autism and developmental disabilities that offers a comfortable, safe, fun and nurturing environment. Camp COAST is designed to meet the needs of children on the autism spectrum between the ages of 5 and 10.

Camp COAST has a maximum of 20 children in camp each week. Each camper will have an assigned teen intern who supports the camper through daily activities and accompanies them on field trips.

Daily camp activities include swimming, sensory games, various events and more designed for children on the autism spectrum and children with cognitive disabilities.
M.A.S.H.
M.A.S.H. is a group program for adults with autism, physical, cognitive and developmental disabilities. Participants meet every 2nd and 4th Friday of the month to enjoy community through uplifting activities that encourage socializing while developing healthy habits.

Sandy Reierson, M.A.S.H. Program Coordinator shares, "We love to get this group out and about through activities and outings like mini golf, the aquarium and even baseball games."

Sandy adds the group often struggles to find the funds to create meaningful experiences for the M.A.S.H. group and she encourages and welcomes all donations and volunteers who want to contribute.
 
By working to understand and support individuals on the autism spectrum, we can create a more inclusive and accepting world for all. We encourage everyone to join the Y in spreading the message of autism acceptance, inclusion and support each and every day!

Published Thursday, April 27, 2023.