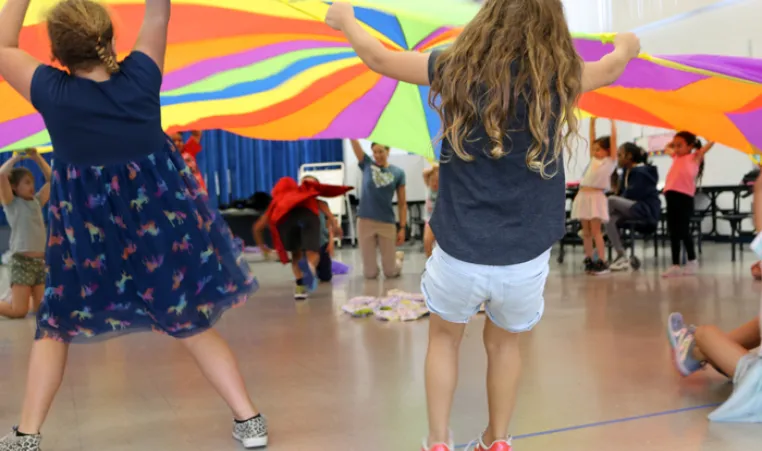 Children at Plumb Elementary School in Clearwater learn about healthy whole-grain foods through fun Kids Power activities.
 
YMCA and BayCare Work Together for Healthier Kids

Community partnerships are an integral part of any successful society. A community partnership is a collaboration between organizations, individuals, and groups within a community to achieve common goals that benefit all of its members.

Recently, YMCA of the Suncoast, Tampa Metropolitan Area YMCA and YMCA of Greater St. Petersburg partnered with BayCare's Kids Power program.

Children from age three through middle school can participate in Kids Power programs and classes to learn important life and safety skills.

Katherine Janus, PhD, Community Wellness Program Director for the YMCA of the Suncoast, leads the Kids Power program in our community. The program and classes are taught by wellness and safety specialists at school.
Engaging Children in Kids Power Lessons in Y After School Programs
Two elementary schools in our community, Plumb Elementary School and Gulfside Elementary School, have implemented the Kids Power program during after school care. The specialist engages children in age-appropriate lessons that encourage and help develop healthy nutritional habits and teach vital safety skills that improve overall physical and social well-being.

At Plumb Elementary School, students learned the following and parents were given take-home prompts to reinforce the conversation about healthy eating and the importance of physical activity!  
Week 1
Lesson: students will learn about the heart, how to make it strong, and the importance of daily physical activity

Activities: sports/fitness charades cards

Healthy Snack: cuties

Fun Giveaway: hula hoops

Take Home Message: kids need 60 minutes of physical activity each day
Week 2
Lesson: students will learn to eat a rainbow of fruit colors

Activities: mystery fruits and "would you rather" fruit exercises

Healthy Snack: GoGoSqueeZ

Fun Giveaway: squeezy apple with YMCA and BayCare logos

Take Home Message: eat a rainbow color of fruits which has vitamin C
Week 3
Lesson: students will learn about vegetables and how they are important to keep us healthy

Activities: parachute produce (harvest veggies and toss salad), make "veggie faces"

Healthy Snack: veggie faces (tortilla and low-fat ranch topping) and small bottle of water

Fun Giveaway: beach ball with YMCA and BayCare logos

Take Home Message: eat at least 5 fruits and veggies each day
Week 4
Lesson: students will learn to identify protein sources (plants and animals)  

Activities: muscle model, practice sorting protein cards into animal and plant sources, musical muscle strength-training stations

Healthy Snack: honey roasted sunflower seeds  

Fun Giveaway: squeezy dumbbell with YMCA and BayCare logos  

Take Home Message: proteins come from both plants and animals and we need them to build our muscles 
Week 5
Lesson: students will learn that whole grains provide energy for the body

Activities: demo flashlight without batteries then discuss how grains are like the batteries for our bodies, whole grain food source boxes

Healthy Snack: SkinnyPop popcorn

Fun Giveaway: mini flashlight keychains

Take Home Message: a healthy grain is a whole grain
Week 6
Lesson: students will learn about healthy sources of dairy

Activities: bone model, skeleton puzzle, "taste testing" cheeses

Healthy Snack: a variety of cheese with whole grain crackers

Fun Giveaway: mini cow figurines

Take Home Message: low-fat dairy helps build strong bones with calcium

You can learn more about healthy eating habits for your entire family, fun activities and summer programs for your children by contacting your local YMCA today!

Published: Thursday, April 27, 2023.