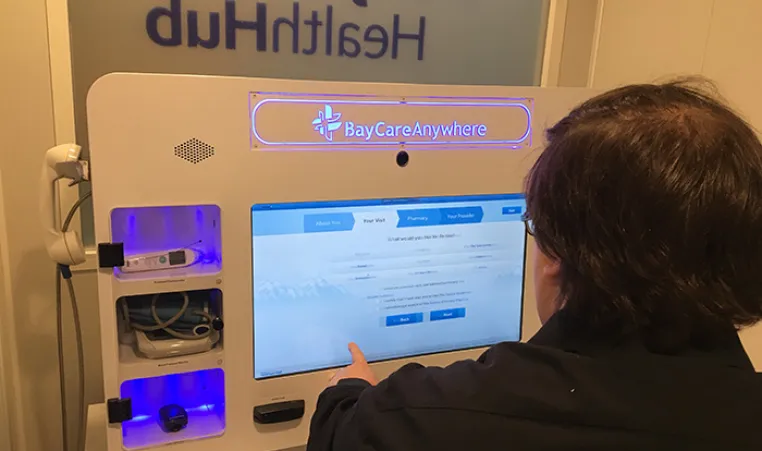 Could you imagine seeing a doctor while visiting your local YMCA? That idea is becoming a reality through a collaboration between BayCare Health System and the YMCA of the Suncoast.
BayCare and YMCA of the Suncoast have teamed up to launch the first BayCare HealthHub™ at the James P. Gills Family YMCA. The HealthHub is a telehealth center where Y members and their families, visitors and the community can receive non-urgent medical care from board-certified physicians through video conferencing and medical diagnostic equipment.
The telehealth kiosk, which features a private room inside the James P. Gills YMCA, is interactive and user-friendly. The technology allows patients to easily enter their symptoms through a touchscreen and work with medical tools such as thermometers, dermatoscopes, otoscopes, pulse oximeter, blood pressure cuffs and high definition cameras to help doctors make an accurate diagnosis.
"This exciting partnership will help us connect members of the community to a dynamic program that will build on our organization's mission to improve and strengthen the community's health and well-being," said G. Scott Goyer, president and CEO at the YMCA of the Suncoast.
The telehealth kiosk at the Y in Trinity opened earlier in June. In the future, the Y and BayCare hope to expand to more Y facilities across the Tampa Bay area.
"We're proud to be the first health system in the Tampa Bay area to bring high quality health care into a wellness facility using the innovative telehealth technology," said Jim Cote, senior vice president for Ambulatory Services at BayCare.
"This collaboration allows us to make health care more convenient for the local community and provide easier access to care when residents need it."
BayCare also recently collaborated with Publix to launch telehealth technology kiosks called Walk-In Care provided by BayCare at 26 in-store Publix Pharmacy locations across the Tampa Bay area.