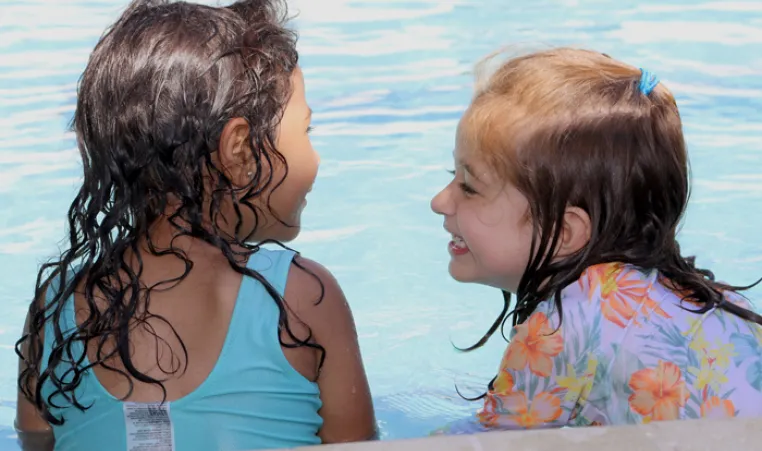 Little swimmers learning to be safe in and around the water!

Sometimes the need for more safety comes from tragedy. Such was the impetus for YMCA of the Suncoast's Float program, which is specifically designed to teach children ages one to four how to be safe in water.

Started last fall at the Hernando County Branch, the program is now available at our seven locations. Tom Button, Senior VP/COO for YMCA of the Suncoast shares more.

"Float started due to a Hernando County family's tragic loss. The moms' persistence to not let this happen to her other child or someone else's family brought her to the YMCA. The family funded the training, and now we are off and running."

"The staff at the Hernando branch: Amber Slusser and Danielle Gennusa, a certified trainer in Float, implemented the program. If a young child falls into the water, they need to be able to safely reach the edge and get out of the water. Float teaches these necessary survival skills. With drowning being the second leading cause of death amongst this age group in Florida, it is critical that families have these skills available for their children," Button explains.

"Because Float requires a low staff to child ratio it is more costly than many YMCA programs. Therefore, we are constantly looking for ways to offset the cost to our community. The more children we can get through this program the more we will have an impact on reducing drownings. When a young person tragically dies due to drowning it impacts the entire community. This is something that families should never have to go through."

Commenting on the community and staff feedback, he adds:

"The response by the staff and the communities has been extremely positive, especially because lives are being saved. No child should ever drown; I cannot emphasize that enough. We have the programs that can have a major impact on reducing this terrible tragedy. We will need instructors to help with the demand. If anyone is interested in helping young children be safe around water this is a great opportunity for them to help us make that impact in our communities."

Contact your local YMCA Aquatics team for more information and learn how you can help save lives.

Published Friday, May 26, 2023.