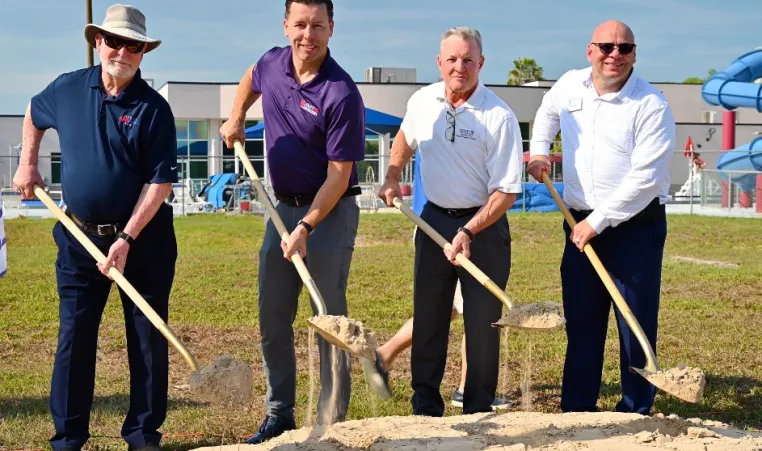 YMCA of the Suncoast Board Members and executive staff break ground.


At the YMCA, we are proud to meet our community where they are. Recently this means expansion. On May 11th, 2023, the Captial Campaign Committee, which includes, Matt Shaw, Committee Chair, Dewey Mitchell, Allen Crumbley, Mike Wells, Karen Epting, Michael Stone, Greg Richardson, Jacques Hakim, Doug Chamberlin and Dr. Jay Winmaalen gathered for our Building for Better Groundbreaking Expansion event at James P. Gills Family YMCA. Our staff dedicated Field 17 in honor of Allen Crumbley for his years of legendary service to the YMCA.  
The James P. Gills Family YMCA has been a community staple for years, offering fitness classes, youth sports, lifesaving water safety and swim lessons and community events. With this new expansion, we will be able to offer even more to our valuable members.  
Julio Vega, District Vice President for the YMCA of the Suncoast shares, "Almost 25 years ago, as a program director, I often wished for the opportunity to have lights on the playing fields. When daylight hours diminished, we had to halt outdoor activities due to the absence of proper lighting. Consequently, during the most favorable climate for outdoor play, we were unable to utilize the field. I am thrilled to announce that, thanks to the incredible support of our volunteers and donors, we will now have the ability to play under the lights during cooler times of the year."

The expansion highlights include "Pickleball Courts, Sports Field Renovations, Healthy Living Center Renovations and Teen Center Improvements." With these enhancements, we will be able to grow for a greater impact. The new pickleball courts will improve the overall health of our seniors through additional fitness activities and give them a sense of community and belonging.

We will increase the number of children we serve and allow them to create lifelong memories through youth sports, summer camp and family programs. The sports fields will provide additional opportunities to help prevent childhood obesity and expand healthy activities for youth. Our Teen Center will create a fun and safe place for teens to engage, make new friends, find their sense of belonging and build self-esteem. 

"The expansion of the YMCA of the Suncoast - James P. Gills Family Branch will enable us to enhance our services and bring together a growing community, encompassing individuals from families, seniors and youth. This transformation ensures that everyone will have the chance to learn, develop and flourish for many years ahead," Julio said.

The YMCA is committed to offering affordable membership options for everyone, and the expansion project is no exception. Memberships will remain affordable, and financial assistance will be available for those who need it.

If you are interested in learning more about the project, visit our project webpage, contact Julio, at jvega@suncoastymca.org or stop by our YMCA today! 

Published Tuesday, June 27, 2023.