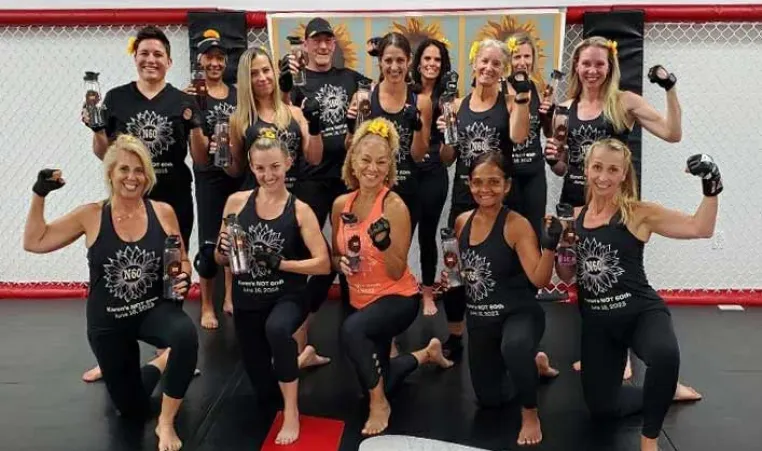 Karen Scott and her BodyCombat class.
Her smile speaks volumes. It tells you a story of survival, of resilience, of trying and of winning. Karen Scott is an inspiration to everyone. The community came together a few weeks ago to celebrate her 60th birthday, the celebration affectionately dubbed Not 60th (N60) earlier this month. The three-day event saw over 100 of her supporters in attendance.

A member of our John Geigle and James P. Gills YMCAs, Karen, lost both her husband, Rod Ruple and daughter, Jessy Scott-Ruple to suicide within the last three years. During these unforgettable and challenging times, she turned to her local Ys and UFC gym to gain a community that would support her mental, physical and emotional health as she began to rebuild her life.

The weekend festivities saw her demonstrate LesMills BodyCombat moves along with Y instructors and members, and a line-up of events with line dancing, food trucks and so much more. She dubbed the weekend a chance to make her late husband and daughter proud.

"I first joined the Y in early 2020 after the suicide of my daughter. Who can survive the death of one's child? In part I was able to do it because of the staff of the YMCA. I'm proud to be a representative for the YMCA, for the tremendous people [who] work there, for the things they do that have an important impact on the lives of others. This is no small thing! To be in the position to alter the trajectory of another person's life! Stupendous stuff!" Karen enthused.

Kari Grassia, Suncoast Y's Senior Director of Community Health Programs, used to be Karen's personal trainer at the Geigle Y. She helped organize and participate in the N60 activities, and notes the YMCA created a marked difference in Karen since they met in 2021.

"Her spirits have lifted by making friendships at the Y and she is able to get some negative emotions out through exercise. She is not only an ambassador, but raises funds for us too now."

Thank you, Karen. Happy Birthday Again, and More Power to You!

Special note: if you or someone you know is struggling, there are people and resources available to help. Call or text 988 to reach the Suicide and Crisis Lifeline 24/7.

Published Tuesday, June 27, 2023.