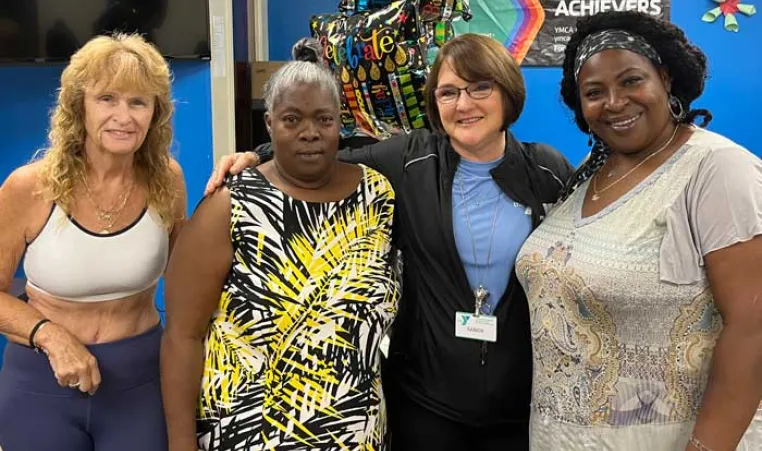 Greater Ridgecrest YMCA's Volunteer Services Coordinator Sandy Reierson smiles for a photo with the Ridgecrest Y's Graydi Girls. 

When YMCA member Tina Washington thought about her life a few years ago, she realized she was not doing well. Struggling with various health issues compounded by the pandemic, Tina still didn't feel physically or mentally well. 

That's when she learned of a new partnership between the Greater Ridgecrest YMCA and the Rainbow Village – Pinellas Housing Authority. 

The unique program, Healthy You Initiative, works with members of the community to build a healthy spirit, mind and body.

The program teaches lasting lifestyle changes to help improve one's overall health. Program members participate in nutrition classes and learn the importance of exercising, meditating and mental health. The group refers to themselves as the "Graydi Girls" and has been meeting for several months and are benefiting from the classes.

"I know the program works because I'm here. I'm thankful I've learned to put myself first," shares Tina. "Having the blood pressure cuffs are so helpful; I take my blood pressure in the morning, during the day, and when I'm upset. I now know coping mechanisms to help me manage my stress. This program is life-changing." 

Tina and the other Graydi Girls meet four times a month with Sandy Reierson, Volunteer Services Coordinator, Guest Relations & Community Outreach for the Greater Ridgecrest YMCA. The group socializes, improves physical health through exercise, and learns and practices coping mechanisms to handle stress. 

The Graydi Girls each have a YMCA membership, including virtual programs from YMCA360, provided at no cost by the partnership. YMCA360 is a virtual membership that offers on-demand and live-stream Y classes including workouts, family activities and cooking demonstrations for members to engage with at their convenience.

She spent months forming bonds with each member and felt it was indeed a "God moment" that brought them together. 
"This program has been such an enlightenment and enrichment to both our members as well as myself," shares Sandy. 

The Greater Ridgecrest YMCA launched the Healthy You Initiative in March, with plans to continue the program and add a second class that Tina plans to attend. Tina hopes to recruit fellow friends, family, and community members for the new class and lead a mindfulness and stress management session.