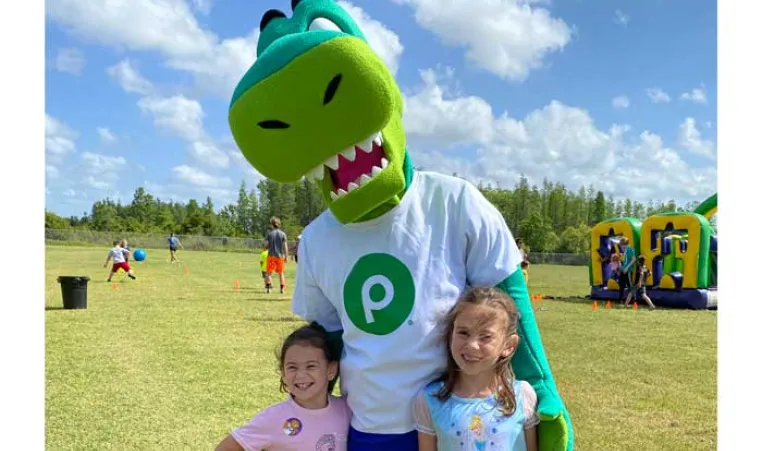 Children participating in the YMCA's 30th Healthy Kids Day® pose for a photo with Publix mascot, Plato the Publixaurus.

As families around Tampa Bay prepared for the end of the school year, the YMCA's Healthy Kids Day® celebrated its 30th anniversary by helping the community kick off a healthy, happy summer!

Healthy Kids Day is the Y's national initiative to improve health and well-being for kids and families. The Y uses the day to get kids moving, learning and creating healthy habits that they can continue while away from the classroom this summer. 

When kids are out of school, they often face hurdles that prevent them from reaching their full potential. Research shows that kids fall behind academically without access to out-of-school learning activities. In addition, without regular movement, kids may gain extra weight twice as fast during the summer than during the school year.

The Y provides resources and tips at Healthy Kids Day events to inform families about access to programs and services to help all children reach their full potential, even during out-of-school time.

"Healthy Kids Day is a great way for our YMCA to highlight the programs, staff and community partners," shares Jeremy Marzicola, the Aquatics Director and Head Swim Coach at James P. Gills YMCA. 

In celebration of Healthy Kids Day, Jeremy and his team welcomed 300 families with swimming, crafts, corn hole, a bounce house, snacks and more! This event allowed members and potential members to discover what it means to have "healthy kids and a healthy family," shares Jeremy. 

Publix, the Sheriff's Department, the Fire Department, PDQ and nine other vendors helped make the day a success.

Five helpful tips to develop healthy summer habits:
High Five the Fruits and Veggies: Make sure your child receives at least five servings of fruits and veggies each day. 

Read Together: The summer is a great time to read with your children and 30 minutes of reading a day goes a long way! 

Get Moving: Have your child engage in activities that require movement, which will also help flex their mental muscles. 

Play Together: Play is a great way to prevent child obesity! 

Make Sleep a Priority: Doctors recommend 10-12 hours of sleep per day for children ages 5-12 and 7-8 hours per night for adults. 

Check out swim lessons, youth sports or call your YMCA to keep your children moving this summer!