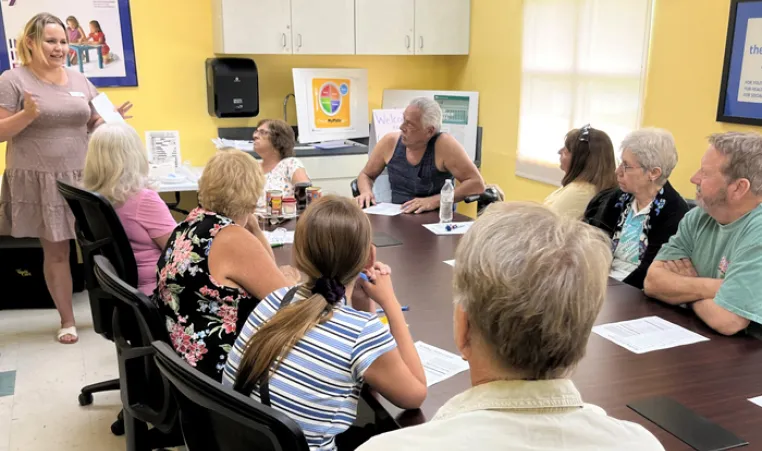 Lauren Karr, Nutrition Educator at Feeding Tampa Bay, teaches Food Smarts for Adults.

What started as a partnership to support the community in dire times, has now become a healthy program at the James P. Gills YMCA. When Covid began, the Y partnered with Feeding Tampa Bay to provide weekly food drives for our community to access without getting out of their vehicle. The food drives are continuing to this day. Now the program has branched into Food Smarts for Adults, an initiative to provide nutrition education classes to the region.

The interactive classes feature food demos and taste tasting. The curriculum highlighted the need to eat colorful fruits and vegetables, consuming drinks with less sugar, and how to add more whole grains to your diet, to name a few elements.

"Our goal is to provide positive nutrition information to our community. These classes are free and open to the public. We are starting out slow as we are only offering Food Smarts for Adults, a class on how to make healthy snacks and adding more fruits and vegetables to your life. This class is offered every two weeks to 12 participants at a time during the summer season," explains Michael Whitten, Senior Director of Branch Operations, YMCA of the Suncoast - James P. Gills Family Branch.

The first session had 12 participants with a waiting list. The program will expand this fall to 25 available seats. Additional Suncoast YMCAs will offer the classes.

"The participants loved the class and information shared by Lauren Karr, Nutrition Educator at Feeding Tampa Bay. We look forward to hosting our community this fall."

Space is limited. Visit Members Services at your YMCA to register.
Published Friday, July 28, 2023