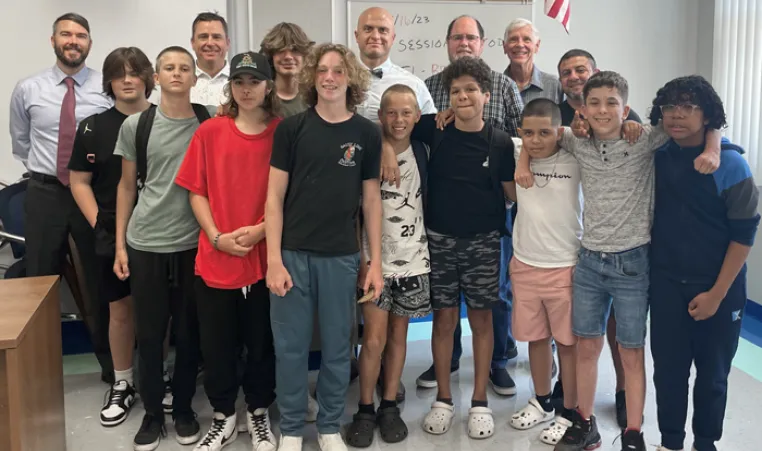 A group of middle school mentees with their Greater Palm Harbor YMCA's In-School Mentoring Program mentors.

Melissa H. Johnson, Assistant Principal at Palm Harbor Middle School, sums up YMCA's In-School Mentoring program best:

"The mentoring program benefited the students at Palm Harbor Middle School in many ways. The boys really looked forward to meeting with the YMCA mentors each week. These mentors served as excellent role models for our boys. Our mentees looked up to the mentors and were eager to please them. I loved the fact that the mentoring program focused on academics, behavior, conflict resolution skills, communication skills and responsibility."

She adds:

"The mentors really held the boys accountable for their grades and behavior at school from week to week. The mentors took the time to get background information about the family life, social emotional issues and academic issues for each student. The YMCA mentors used many different positive rewards to help the boys make better choices and meet their goals. I saw a big improvement in some of the boys' grades and behavior. I noticed that the communication skills in the group discussions got better as the year progressed. I really hope the YMCA mentor group can work with our students from year to year, because it made our students feel valued and respected and the program gave them something to work towards."

Hosted by the Greater Palm Harbor Y annually, the in-school mentoring program features 13 students every school year. It began from an idea by the advisory board with the goal to help underserved middle school students. Delonyx Cortez, Executive Director for Greater Palm Harbor Y, pitched the idea in 2019 to Palm Harbor Middle School's then new principal. He shares more on the initiative.

"We had a before and after-school program and we ran our basketball program out of Palm Harbor Middle School, hence the partnership came about. Based on conversations and needs assessments we performed, we learned there were a lot of middle-schoolers struggling. We worked to put the program together, which has run yearly except in 2020 due to COVID. It was funded by the Suncoast Association Seed Fund. We presented it to the middle school principal and administrators and the program was born. I reached out to community leaders and recruited volunteer mentors and within a few months, we started the mentorship program with the goal of increasing academic success as well as developing leadership skills for the mentees," Cortez explained.

Thank you to everyone involved in this amazing program. The results are incredible.

Published Friday, July 28, 2023