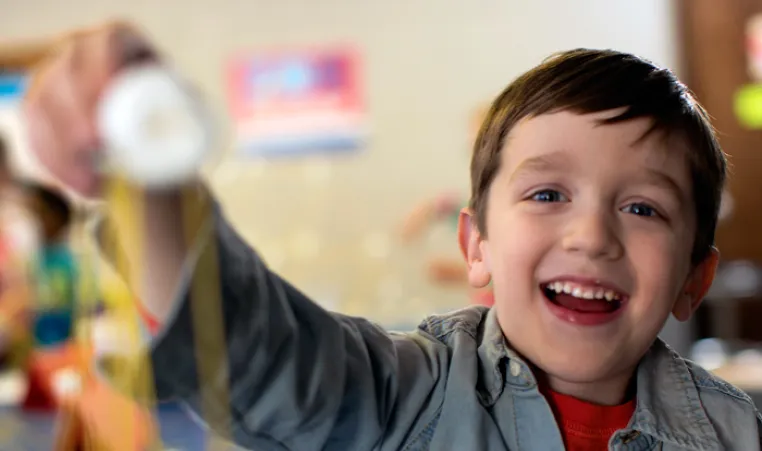 YMCA camper shows off his craft.

Summer camp holds a special place in the hearts of many individuals, offering an environment for personal growth, exploration and camaraderie. Earlier this month, YMCA supporters, donors and members gathered at the Greater Palm Harbor YMCA for the 2023 summer camp impact tour led by Delonyx Cortez. Delonyx is the Executive Director of our Greater Palm Harbor YMCA Branch.

The summer camp impact tour allows donors to see their contributions to today's youth firsthand. Throughout the tour, staff and campers shared their experiences with donors and how their support transformed their time at camp. The YMCA ACA-Accredited summer camp allows each child to discover who they are and what they want to become. Additionally, campers foster personal development, create lifelong memories and obtain valuable life skills.

The tour highlighted campers of all ages. They performed dances, gave testimonials about their time in summer camp experiences and displayed artwork and crafts they made throughout their summer.

Delonyx shares, "What we always hope to do at the Y is to provide every child a place where they can achieve, build relationships and feel a sense of belonging. With the support of the community, our YMCA camp is that place.  The place where these kids can share their gifts and positively affect themselves, others and ultimately the world around them."

Thanks to many generous donors, the YMCA is able to provide summer camp scholarships for children and families in need. This summer many children benefited from YMCA scholarships. The scholarship program offers financial assistance through a fee-scaling program designed to fit each individual's financial situation.

Furthermore, when the community donates their time, talents and treasures, we are able to provide a family with the opportunity to give their child a safe place to learn, grow and thrive! You can join the YMCA and donate today and give a child the gift of memories, skills and values that will shape them into compassionate, resilient and well-rounded adults!

Published Monday, Aug. 28, 2023