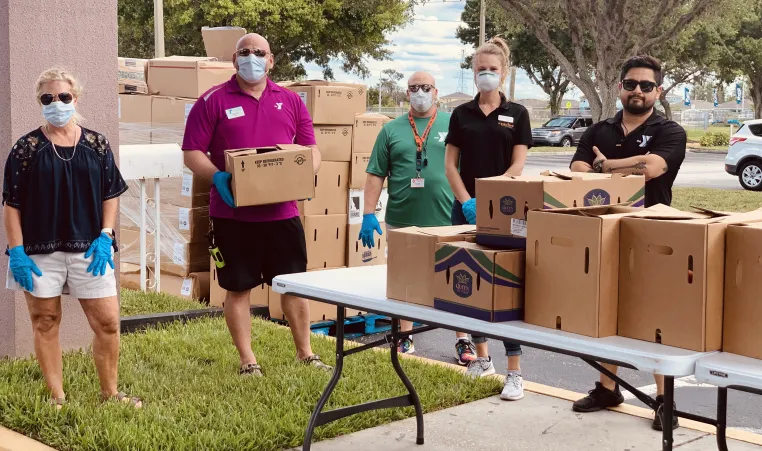 The YMCA of the Suncoast is excited to be adding an additional branch in West Pasco County in its latest partnership with Feeding Tampa Bay to feed even more families in needy communities. 
The James P. Gills Family YMCA, 8411 Photonics Dr., Trinity, FL 34655, will now host a weekly drive-thru food pantry every Monday, starting April 6th from 3-4pm. They will be providing pre-packaged boxes of food to individuals and families. 
"We're excited to continue working together with community partners like Feeding Tampa Bay to fight food insecurity in communities that need it the most. Feeding hungry families is essential especially while local schools are closed during these unprecedented times," says Julio Vega, YMCA of the Suncoast District Vice President.
"We're surrounded by uncertainty and one of the things I can't even imagine is being uncertain about where your next meal is coming from," said YMCA of the Suncoast President/CEO G. Scott Goyer. 
Either a child/children must be present in the vehicle or the parent must have a form of identification (birth certificate, ID, passport) for each child to receive the food.  
Feeding Tampa Bay also uses the Clearwater YMCA, 1005 S Highland Ave, Clearwater, FL 33756, (10-11am) and Greater Ridgecrest YMCA (2-3pm) as daily distribution sites. 
(Photo) The YMCA of the Suncoast's Trinity branch, located at 8411 Photonics Dr., works with Feeding Tampa Bay to hand out food to needy families on April 6, 2020.