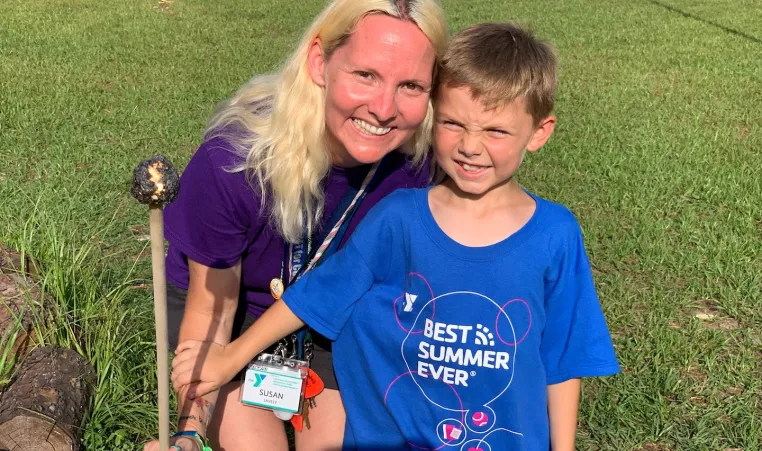 Believe it or not, Florida has outdoor camps and one is located right in Clearwater's own backyard.
Camp Muskogee is nestled in 53-acres of forest, meadows and wetlands, just off of U.S. 19 and McMullen Booth Road. Thanks to the Boy Scouts of America, the YMCA of the Suncoast is able to offer camp at the campsite for seven weeks over the summer.
"The heat, the bugs, they enjoy it," laughs off Youth Development Director Susan Lavely of the campers. Susan is also mom to 7-year-old Gabe Randolph, who is new to camp this summer and loves to fish in Camp Muskogee's Lake Chautauqua.  
Campers, ranging in age 7-14, have the unique opportunity to experience the great outdoors. "It's better than sitting in the house," says 9-year-old Gabe Smith, who has been coming to Camp Muskogee for three years and enjoys archery, fishing and canoeing. "It gets him away from the phone and TV," says his mother, Heather McAllister. 
Campers also enjoy activities like swimming, boating, backpacking, knot-tying, map and compass reading, slingshots, slackline walking and nature studies which include fish dissection, bird watching, plant identification, gardening and more!
"The Y really focuses on making sure they have a great experience," says Sarah Walsh, YMCA of the Suncoast Program Management Director. "We want them to learn different skills. We want them to achieve. We want them to belong. We want them to feel this is the place for them to be."
And no outdoor camp would be complete without campfires. "We teach them the proper techniques on how to start a fire, how to put out a fire and obviously how to cook on fire," says Susan, who has some tips on how to roast a s'more. 
"It just depends if you like it more mushy or crispy. I noticed some of campers like it a little more crispy. Some of them don't. They barely put it in the fire at all."
There's still time to register this summer. To learn more, go to: https://www.ymcasuncoast.org/muskogee.