Here's to Fit Fathers!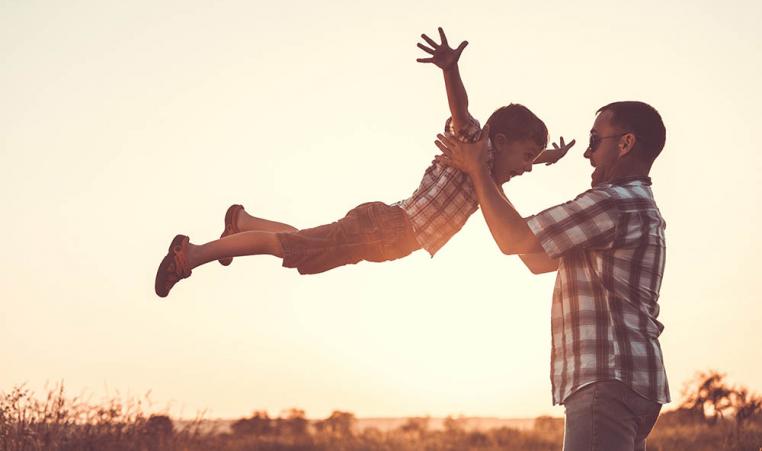 He takes the training wheels off the bicycle and tells you, "You can do it!" He mows the grass every Saturday before everyone else gets up. He works long hours and then patiently listens to you when you're upset. He's dad, and you love him for all those wonderful things he does. But dad can't do it all without taking some time for himself. So, as we celebrate Father's Day and National Men's Health Week, YMCA of the Suncoast shares some ways to keep dad fit and happy to make sure he can keep going 24/7.
Regular Exercise Regime: Long hours at work and important "dad duties" at home mean dad needs lots of energy and strength. A regular exercise program such as a boot camp or cardio and core workout will help him stay ready for anything. Programs such as these also help dad manage stress more effectively.
Buddy Time:  It's no secret that downtime is good for dad. Encourage him to hang with his friends a few times each month to decompress and enjoy life beyond fatherhood. Better yet, help him plan a hike or backpacking trip with the guys. After a few days with his friends, he'll come back full of energy and appreciation for his family.
Food Fuel: For dad to keep running, he needs to have good food in his body. Healthy meals with lean meats and lots of veggies and fruits are best, but when the schedule gets crazy busy, fill the fridge with healthy grab-and-go snacks such as hummus, celery sticks, baby carrots, fruit, and even grilled chicken strips.
Hydrate Him: He's out in the heat working, exercising, and being a dad, which means he needs lots of fluid. Remind him to drink liquids that replace lost electrolytes and buy him some drinkware to keep his beverages cold.
One-on-One Training: To stay his healthiest, dad may need to work with a personal trainer who can develop an exercise and healthy lifestyle program for him. Look for a personal trainer who will listen to dad and closely monitor his progress. Check out reputable gyms and rec centers where he can see the equipment he will use.
Balance Him: Help dad minimize stress and balance mind, body and spirit by signing him up for a martial arts class. Karate, Taekwondo and Tai Chi are all martial art forms that will challenge him physically while helping him feel centered and relaxed.