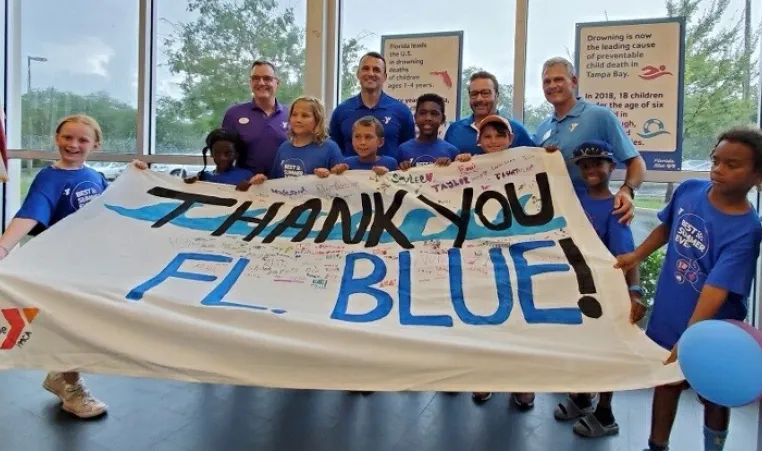 Nearly 8,000 children have learned life-saving swim lessons thanks to the generosity of the Florida Blue Foundation. 
The YMCAs of Tampa Bay joined the Florida Blue Foundation at a press conference on July 24th to reveal the Y's Safety Around Water (SAW)'s impact just this year alone. "That's 8,000 kids in our community that are going to be more comfortable in the water," says G. Scott Goyer, YMCA of the Suncoast CEO/President. 
Thanks to a $155,000 grant from the Florida Blue Foundation, the Y is helping thousands of children in more than 30 Y locations in the Tampa Bay area, ages 3-12 years, learn basic swimming skills and practice safety habits while in and around the water. During a SAW course, certified instructors teach two sets of skills designed to reduce the risk of drowning and boost participants' confidence in and around water. 
Statistics show Florida leads the entire country in drowning deaths of children ages one to four. New data shows drowning is now the leading cause of preventable child death in Tampa Bay. These staggering statistics come with devastating outcomes. 
"Keeping children safe around water is absolutely critical. Think about the state we're in," said Florida Blue Market President David Pizzo. "One of the greatest assets of our state, why many of us live here, move here, vacation here, is because of the great water." 
Research shows participation in formal swimming lessons can reduce the risk of drowning by 88 percent among children aged 1 to 4, yet many kids do not receive formal swimming or water safety training. The Y and the Florida Blue Foundation believe teaching children how to be safe around water is not a luxury; it is a necessity. 
"Not only do we have great pools, rivers, lakes, but even when it rains, and you get a torrential storm, think about the retention ponds that fill up, the corners and streets, you can drown in such a little bit of water," David reminds us. "So, we couldn't think of a better program to support at the Y than this program." 
SAW can help children and families make sure they learn essential water safety skills, which can open up a world of possibilities for them to satisfy their curiosity safely. "We are committed that no child drowns in Tampa Bay," Scott says. "We cannot thank Florida Blue enough for their support."