Safety Around Water Program to Expand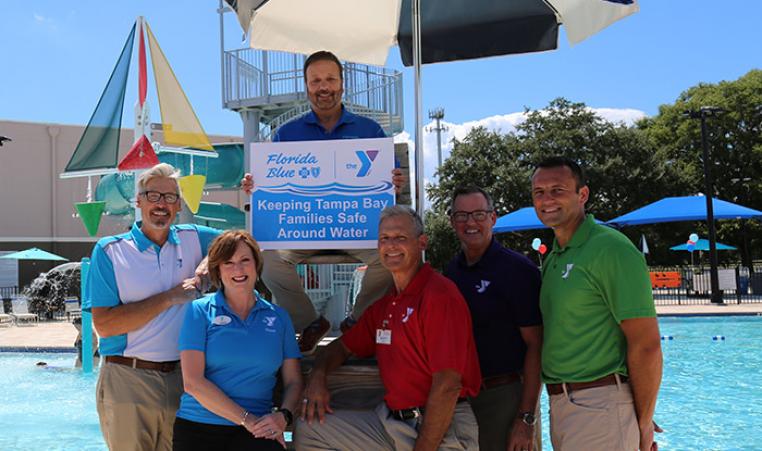 Tampa Bay YMCA Partnership with the Florida Blue Foundation  
The "Safety Around Water" (SAW) awareness campaign continues to expand in the Tampa Bay area thanks to a collaborative effort among five YMCA associations and the Florida Blue Foundation. The program will be taken out into the communities the Y serves in addition to continuing at more than 30 YMCA locations across the Tampa Bay region from Citrus to Sarasota counties.

The Y and the Florida Blue Foundation believe teaching children how to be safe around water is not a luxury; it is a necessity. The SAW program can help children, families and adults make sure they learn essential water safety skills, which can open up a world of possibilities for them to satisfy their curiosity safely.
The SAW course is taught by certified instructors, and it teaches two sets of skills that will reduce the risk of drowning and give participants confidence in and around water.
"Drowning can happen nearly anywhere with standing water," said G. Scott Goyer, president and CEO, YMCA of the Suncoast. "As a parent or caregiver, you need to equip your children with the tools they need to be confident in and around water."
"One of the perks of living in Tampa Bay is the abundance of water that surrounds us. From oceans to springs to pools, it's a part of our life each day," said David Pizzo, Florida Blue market president for West Florida.
"Unfortunately, it can also be extremely hazardous for young children. As part of our mission to help people and communities achieve better health, we're proud to support the YMCA's work to equip young children and their families with essential water safety skills."

Participating YMCA associations include the Greater St. Petersburg YMCA, Manatee YMCA, Sarasota YMCA, Tampa Metropolitan YMCA and the YMCA of the Suncoast.
The $155,000 grant from the Florida Blue Foundation will assist the Y in helping children 14 and younger and families learn basic swimming skills and practice safety habits while in and around the water at home, by the pool, on a boat or at the beach.

This program is FREE and open to all in the community and a YMCA membership is not required; however, pre-registration is required due to limited space. Times will vary based on location. For more information call your local Y to attend.