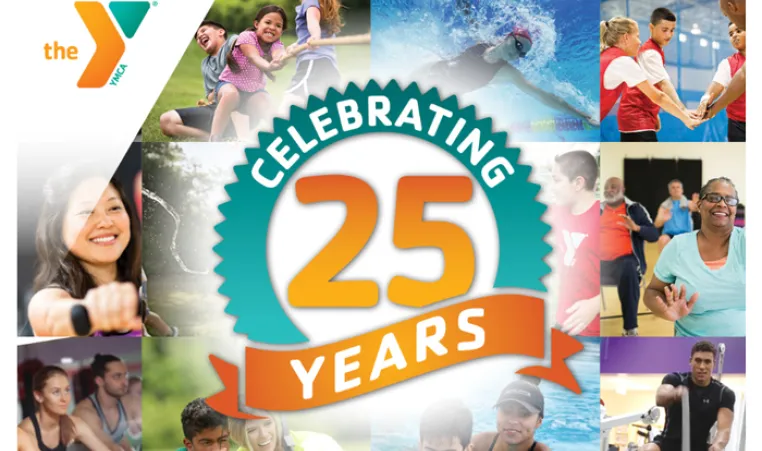 For the past 25 years, the John Geigle Family YMCA has proudly served its members and community by opening its doors to those in search of a healthy lifestyle as well as outreach activities beyond YMCA walls.   
Open House Celebrations
On January 21st, the John Geigle YMCA welcomed members, community partners, staff and advisory council members to the 25th anniversary open house celebration. Four staff members in attendance, Veronica Condren, Pam Jamison, Linda Gillie and Joe Hancock, have been with the John Geigle YMCA since the day they opened the doors!

The open house took place from 9am – 12 pm and highlighted the newly renovated, modern lobby that will allow the team to serve their community for the next quarter century! The day additionally included program highlights, fun activities for kids, and a short presentation delivered by YMCA of the Suncoast President and CEO Scott Goyer, followed by a light lunch and Family Yoga at 12:30 pm.

Local business owners, Angela and Peter Pergola of East Lake Café, have been members of the John Geigle YMCA for 25 years, and generously provided lunch for those in attendance.
Leadership Leaning In
Scott shares, "I was fortunate to join the John Geigle/North Pinellas YMCA branch volunteers, staff, and community as we celebrated 25 years of youth development, healthy living and social responsibility. I am proud of the numerous accomplishments and initiatives the team has made to strengthen the community by offering programs that respond to critical needs and positively impact the lives of children, adults and families for generations."
Seth Milbrand, District Vice President for the YMCA of the Suncoast adds, "I hope that in the next 25 years, our YMCA continues to be a place to be, belong and become. Kids will grow up and take their first steps here; teens will learn responsibility through their first jobs with us; families will meet other families and form lifelong connections; we will celebrate goals achieved and milestones reached; we will mourn together and lift each other. Our community will continue to be an even better place to live because of the Y over the next 25 years and beyond."
You can join Seth and the staff at John Geigle Y as a member, and our top-quality programs today!
Published Tuesday, Feb. 28, 2023.