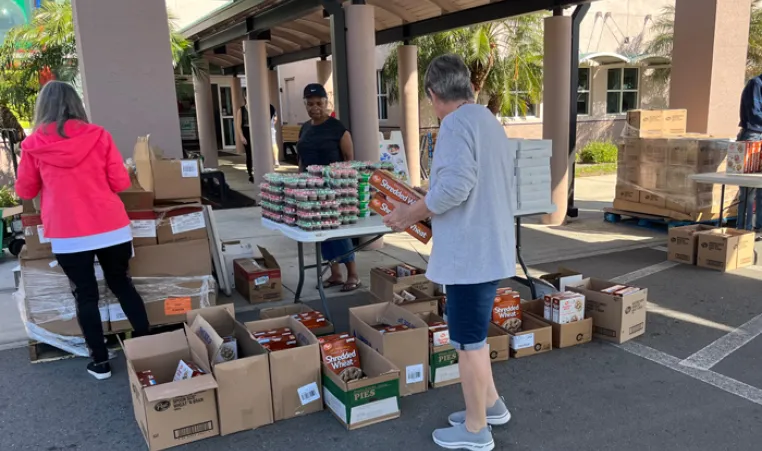 James P. Gills Family YMCA Mobile Pantry volunteers in action on February 6th, 2023.
The James P. Gills Family YMCA consistently goes beyond their Y walls to engage with the surrounding community and provide quality programs and resources for their members and neighbors.
Providing Partnership
Local nonprofit and community partner, Feeding Tampa Bay's vision is a "Hunger-free Tampa Bay by 2025." They plan to execute this vision by changing lives one meal at a time by leading our community in the fight against hunger.

The Gills Family YMCA has joined Feeding Tampa Bay in the fight to end hunger by distributing food through their Mobile Pantry every first and third Monday of the month. 

The Gills Family Y began this partnership in 2020 when the pandemic first began.

Michael Whitten, Senior Director of Member Engagement shares, "We have been partnering with Feeding Tampa Bay for three years now. We started at the beginning of the pandemic and serve an average of 219 families each month. The Mobile Pantry Program is 95% run by volunteers, and in 2022 we served a total of 2,628 families with over 1,200 volunteer hours donated."
Healthy Living and Social Responsibility
Two of the YMCA's areas of impact include healthy living and social responsibility. Michael and his team at Gills Family YMCA prioritize programs like the Mobile Pantry and continue to support the needs of their community.

The team of volunteers and staff are proud to serve families throughout Port Richey, Elfers and Holiday with free and nutritious food items. Many families travel to the Gills Family YMCA Mobile Pantry because they do not have access to fresh produce and healthy meats. Others simply cannot afford healthy groceries due to inflation and additional living expenses.

Michael adds, "We began seeing an increase in families in March of last year [2022] and it has grown since then, especially around the holidays. I would say the biggest factor is the rising costs of food and other goods that have been inflated."

You can support families in need and provide even more healthy food items by donating your time, talents and treasures today!

Published Tuesday, Feb. 28, 2023