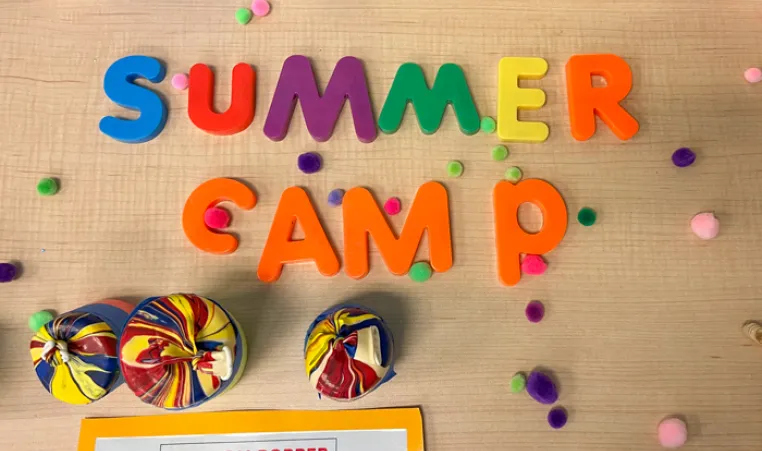 Craft made at Greater Palm Harbor YMCA Summer Camp.
Often, summer camp is a fun outlet to play with friends and experience new adventures. For others, like Isaac and Elijah Hooker, summer camp is the place where they disconnected from screens and learned interpersonal skills, made new friends and learned to swim.

Bryce Heilman, a staff member at Greater Palm Harbor YMCA, formed a connection with the kids and their grandmother the first time they came to the Y.

Bryce shares, "I first met the Hooker family in the spring of 2022, when Ruth Hooker brought her two grandsons [to the Y] to register for summer camp."

That night, Bryce spent time getting to know the family, and he registered both boys for camp.

From the moment Bryce met Elijah he was a burst of energy. On the other hand, Isaac was quiet and reserved.

Ruth's goal was to give Elijah an outlet to release his energy in a healthy way, meet other kids and learn to swim.

For Isaac, Ruth wanted a safe space for him to break out of his shell and find his voice. Isaac, like many kids, spent his free time playing games on his iPad. As a result, Isaac had few friends and engaged in minimal physical activities.

After learning about the family's goals, Bryce assured [Ruth] summer camp at the Y offers activities and spaces for her grandsons to learn, grow and thrive.

During the first few weeks of camp, Bryce followed up with Ruth to find out how the boys were doing.

Ruth stated, "Elijah is loving playing games with the other kids, and the swim time each day, but Isaac is having a harder time fitting in with the older group of kids."

Bryce and the summer camp staff stepped up and stepped in to help Isaac acclimate to his camp group and ensured he had the tools and resources to make friends and feel comfortable engaging in group activities. As the summer progressed, Bryce noticed Isaac slowly breaking out of his shell!

During the last week of summer camp, Bryce asked Ruth if the boys had fun, and if they planned to return for the following summer.

Isaac quickly responded by saying, "Yes! I can't wait for summer camp next year!"

Since then, Elijah and Isaac have been participating in many youth programs at the Greater Palm Harbor Y including soccer, basketball, swimming lessons and enrichment classes.

Bryce and the Greater Palm Harbor team were thrilled to have both boys in their soccer league this past fall. The staff recognized just how much the programs have helped Elijah with listening skills, and Isaac feeling more comfortable being part of a team.

Bryce shares, "I am thankful to have this family as part of our Y. I'm thrilled to say that both Elijah and Isaac are coming back for summer camp again this year!" 

You can register your child for a transformative summer at one of our day camps today!

Published Tuesday, Feb. 28, 2023.