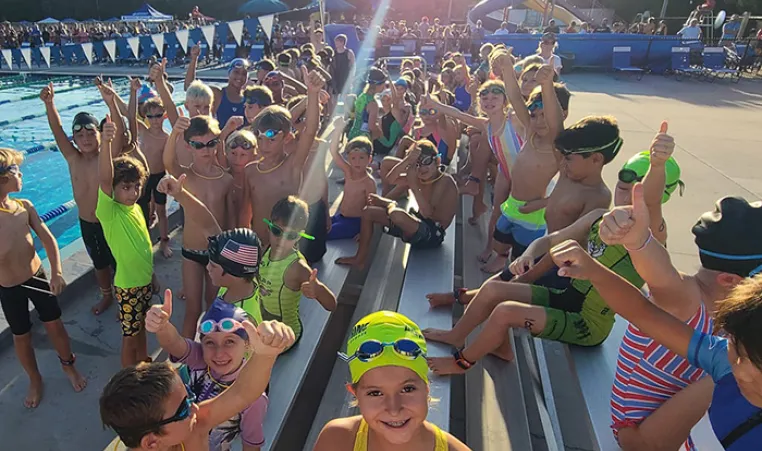 Swimmers gather for a photo at the 6th annual Greater Palm Harbor YMCA Youth Triathlon.
Healthy Events for the Entire Family
The Greater Palm Harbor YMCA is focused on strengthening the community by providing healthy living programs and initiatives to our young community members. These initiatives include Summer Camp, Youth Sports, Before and After School Care and the Youth Triathlon.

On August 28th 2022, 178 children gathered at the Greater Palm Harbor YMCA for the 6th Annual YMCA Youth Triathlon. A triathlon is an endurance multisport race consisting of a ½-mile swim, 12.4-mile bike ride and a 3.1-mile run. For the Greater Palm Harbor event, the race distances are reduced in order for youth to reach the finish line.

Children were placed into three separate categories based on age and event distance. Children aged 5 – 6 swam 25 yards, biked ½ a mile and ran ¼ of a mile. Children in the 7 - 10 age group swam 100 yards, biked two miles and ran ½ a mile. The kids in the 11 – 15 bracket swam 200 yards, biked four miles and ran one mile.

Ginny Lisle, the Youth Triathlon Event Director shares, "This event is a sanctioned USAT Triathlon which empowers children of all ages and abilities to reach a goal of finishing at their individual success rate. The event brings families, friends and athletes of our community together to support the Y's mission of strengthening our youth through development and healthy living."

Children train with friends and family each year to prepare for the big event. The National Library of Medicine shares that most children need at least an hour of physical activity daily. Regular exercise has many benefits for children, including:   
Feeling less stressed

Feeling better about themselves

Feeling more ready to learn in school

Keeping a healthy weight

Building and keeping healthy bones, muscles and joints

Sleep better at night
A Supportive Community
Thanks to contributions from Advent Heath North Pinellas, Pinellas County Sheriff's Office and ImLoganIt Foundation, even more children were able to participate in this year's event with scholarships for participation fees.

If your child missed out on their great event – they can register for the upcoming Citrus Memorial Health Foundation YMCA's Youth Triathlon on October 23rd, 2022. The Citrus Y will welcome children ages 5 – 15 at 4127 West Novell Bryant Highway, Lecanto, FL 34461.

Published Monday, Oct. 3, 2022.