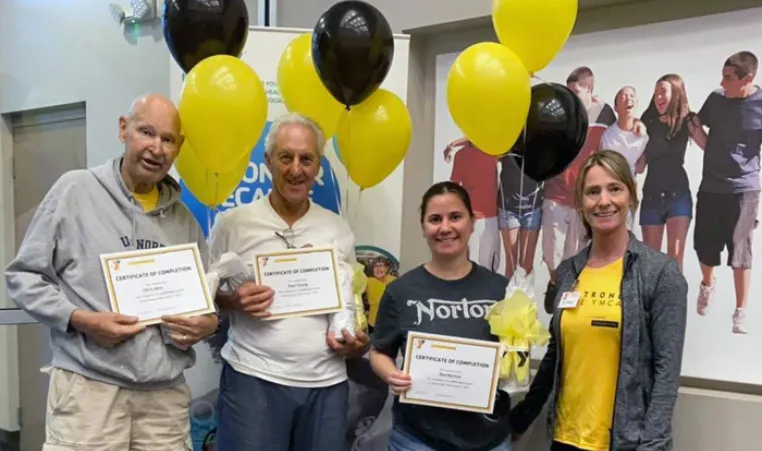 Three LIVESTRONG® at the YMCA participants from the Greater Palm Harbor YMCA at their graduation ceremony.

What started as an in-person, traditional LIVESTRONG® cancer wellness program quickly evolved to meet the needs of its members. This month, the Greater Palm Harbor YMCA held their first LIVESTRONG® class graduation class since the pandemic began.

LIVESTRONG® at the YMCA is a free 12-week program that provides in-person support for those who are living with, through or beyond cancer. Our certified cancer wellness coaches provide physical and social activities to participants affected by cancer. 

This traditional wellness model shifted when cancer survivor Dee Norton approached Ginny Lisle, the Senior Healthy Living Director at the Greater Palm Harbor Y, stating her cancer was back for the third time. Dee knew she had a long road ahead of her and would not physically be able to attend every meeting during the 12-week program. 
Ginny and her team quickly shifted the program to meet the ever-changing needs of their LIVESTRONG® members. They developed a new wellness curriculum to virtually support Dee and other cancer patients facing barriers to attending the in-person classes. 

The new LIVESTRONG® curriculum included the traditional physical exercises from the in-person class and incorporated a holistic approach to wellness. Ginny's team added mental and spiritual activities to the virtual class option–leaning on the Y's mission, "To put Christian principles into practice through programs that build healthy spirit, mind and body for all."

Check out testimonials from recent graduates about how the program has positively impacted their lives.
"I came back to the Y to join the LIVESTRONG® program. I am recovering from cancer and this program helped me by challenging me, giving me support from my coach and other members of the class, realizing how fortunate I am to be able to do what I can do and recognizing how important my mental health is for my recovery." – 2022 LIVESTRONG® at the YMCA graduate 

"Six to eight weeks ago I was very sick with low red cell levels. My oncologist recommended LIVESTRONG® at the YMCA. Five weeks later, I feel like a new man. My coach Suzanne Hancock was OUTSTANDING." – 2022 LIVESTRONG® at the YMCA graduate

"I love the classes and community they offer. I had no idea I would need the YMCA for the LIVESTRONG® cancer program, but I'm so grateful for the feeling of getting back to normal after recovering from cancer." – 2022 LIVESTRONG® at the YMCA graduate

If you or someone you love has been affected by cancer–currently or in the past–please share LIVESTRONG® at the YMCA program information with them!