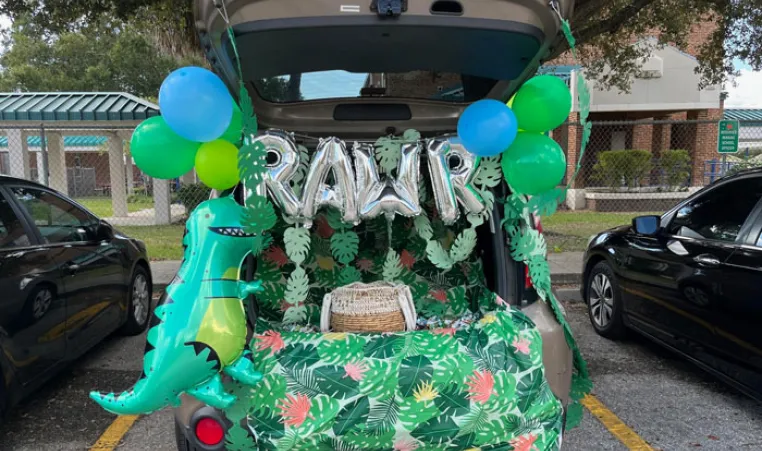 Trunk decorated at a Trunk or Treat event.
It's spooky season, and millions of children are preparing their Halloween costumes, carving pumpkins and enjoying fall sports with their friends and family.

This October, the YMCA of the Suncoast and our seven branches are offering various programs and events to keep our youth engaged, involved and learning our core values of caring, honesty, respect and responsibility. 

One of the most anticipated fall festivities is the kick-off of our fall sports programs! Fall sports at the YMCA of the Suncoast include:  
Basketball  

Cheerleading  

Flag Football  

Martial Arts  

Soccer  

Tennis  

Volleyball  
Hundreds of children actively participate in one or more of the fall sports listed above. Sports are instrumental in a child's development and teach more than athletic skills. Children learn to play within the boundaries of a game along with invaluable life lessons that can be applied to just about any aspect of life. They learn self-confidence, teamwork, courage and discover who they are and what they want to become. In addition to fall sports, we offer the annual Trunk or Treat event!

Trunk or Treat takes place Halloween night or the weekend of Halloween and is a safe alternative for children to "trick or treat" from car to car. Families and local community partners decorate the trunks of their vehicles in elaborate Halloween themes and hand out candy as kids come to trick or treat. Children and parents alike are able to enjoy the evening while fostering a sense of community and enjoying the scary costumes and trunks!

We believe every child deserves the support, guidance and encouragement to be who they are. The YMCA of the Suncoast provides opportunities for thousands of youth to cultivate values, skills, and relationships that lead to positive behaviors, better health and educational achievement. We are committed to long-term, results-driven programs that inspire our youth to grow and develop, and you can join the Y in supporting our youth when you donate today.

Follow our Facebook page for the most up-to-date events and activities and highlights!
 
Published: Friday, Oct. 28, 2022