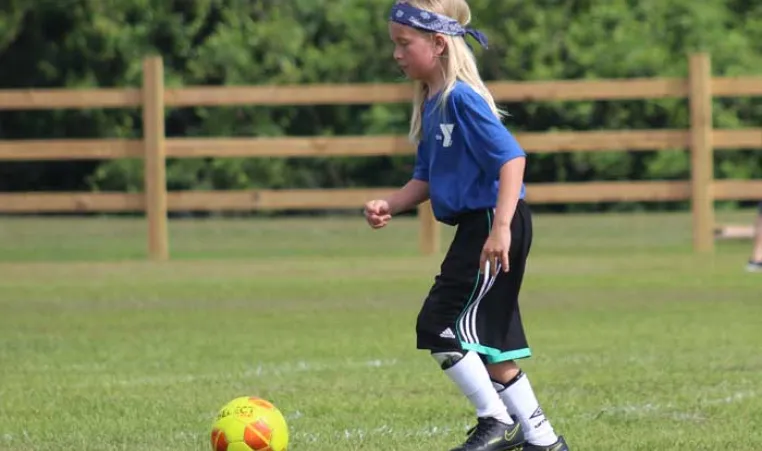 A young athlete plays soccer at the YMCA.




Millions of adults can pinpoint a core childhood memory where sports positively influenced their school year, relationships or self-confidence. For some, that includes scoring the game-winning touchdown, leading the track team to the state meet or ranking in the top three at the national swim meet. In many cases, these experiences and memories catapult the child into a series of events that lead them to become a well-rounded and successful adult. 

Sports are instrumental in a child's development and teach more than athletic skills. Children learn to play within the boundaries of a game along with invaluable life lessons that can be applied to just about any aspect of life. 
 
Setting Children up for Success
Through youth sports programs at the Y, children learn self-confidence, teamwork, courage and discover who they want to become. Supportive and encouraging program directors and coaches can make a lasting impact on a child's self-discovery. 

"The mission of Y's Youth Sports programs is to make sure our kids have fun, while learning the qualities it takes to be a team player and leader," shares Tyler Savageau, staff member at Greater Palm Harbor YMCA. 

Tyler and his team work to create a welcoming and cohesive learning environment that allows children to engage with their teammates and the sport.  

Tyler adds, "Teamwork is vital in team sports and we teach our kids to open up to one another and work together. Through our youth sports programs, kids will also be able to learn how to be a vocal leader. Our ultimate goal is to make sure that whether on the basketball court or soccer field, we are raising spirits, encouraging positivity and communication and having a blast!"  

Not only do the players and staff enjoy the intricacies of youth sports but the parents also see the additional benefits. 

The President's Council on Sports, Fitness & Nutrition Science Board gathered data stating 55 percent of parents believe that sports will benefit their children academically and improve their future careers. Eighty percent of parents believe that sports helped their child learn about discipline and dedication, as well as how to get along with others. 

Additionally, 73 percent of parents believe that sports benefit their child's mental and physical health.   
The Y has something for every type of youth athlete  

In 2021, the YMCA of the Suncoast provided hundreds of young athletes with the ability to learn resilience, leadership skills, accountability, respect and patience through our youth sports programs.  

Youth sports at the YMCA of the Suncoast include:   
Basketball   

Cheerleading   

Flag Football   

Martial Arts   

Soccer   

Tennis   

Volleyball   
Help your child engage in the recommended 60 minutes of physical activity each day. Contact a Y branch near you and sign your child up for one of our many fall youth sports today!