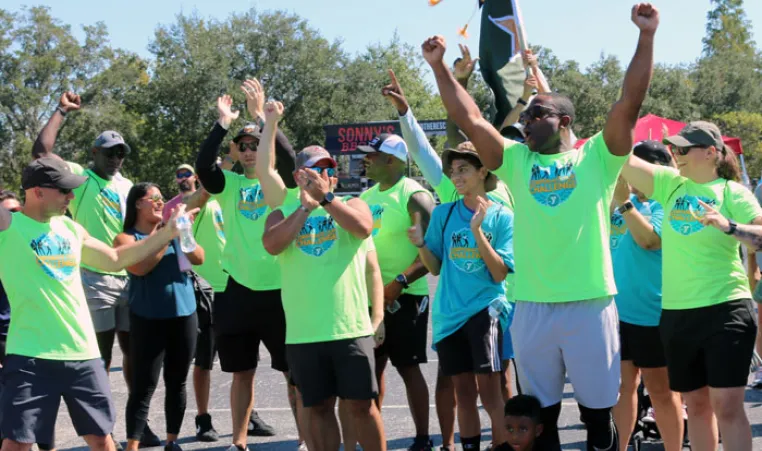 YMCA of the Suncoast corporate partners vie for the coveted Corporate Cup.  
The YMCA of the Suncoast is an integral part of the community. From families to seniors, to young kids and teens, everyone has the chance to grow, develop and  belong at the Y. 
Support from community members, volunteers and annual donors allows the Y to be there for those who need our programs and services the most. Whether it is for safety around water, LIVESTRONG® at the YMCA or academic success, contributing to the YMCA changes lives.  
Earlier this month, the YMCA of the Suncoast had the opportunity to host its 3rd Annual Corporate Cup Challenge.  
Corporate Cup is a one-of-a-kind Olympic-style, co-ed team-building event that promotes health and wellness in the workplace for local companies and organizations. This premier "adult field day" challenge leaves participants with lasting memories while supporting the Y community.  
We are proud to share we raised over $30,000 thanks to our sponsors and participating corporate teams!  
The 2022 event had12 corporate teams including: the Pinellas County Sheriff's Office, Hernando S.W.A.T., ConnectWise, Bruce Bartlett's Justice League, Team KRG, Maus, Valley, Pennoni, Freight Center, FGM and Lema Constructions. Each team participated in 12 events including:  
Inflatable Challenges 

Human Hungry Hippo 

Tug-of-War 

Trivia games and so much more!  
The 12 teams worked together to earn the maximum amount of points for their event round. Each team made a valiant effort, but this year's Corporate Cup went to the Pinellas County Sheriff's Department. 
Your organization can participate in or sponsor the next Corporate Cup Challenge – email Randy Nilsson rnilsson@suncoastymca.org for more information.
Published: Monday, Oct. 31, 2022