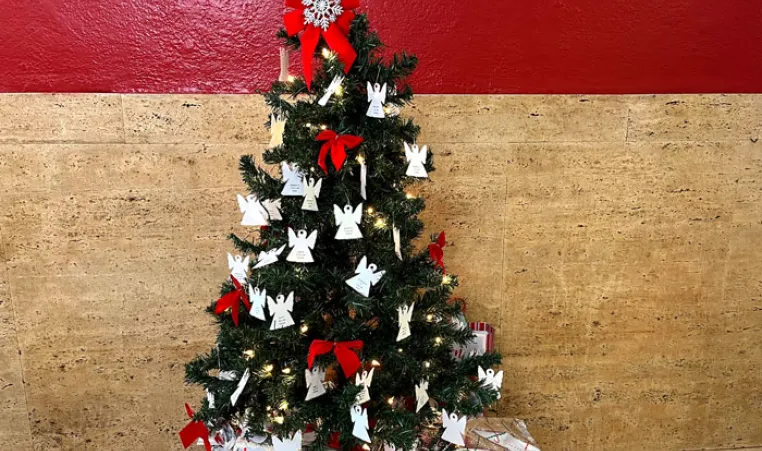 The Giving Tree and gifts for children in our community.
The Giving Season

Giving
/ˈɡiviNG/
Providing love or other emotional support; caring.

The word giving is used throughout the holiday season. Friends, family members and coworkers exchange perfectly wrapped packages, boxes and stockings to show appreciation for their loved ones.

At the YMCA, we give our members the gift of belonging, hope and the tools to lead a healthy, well-rounded lifestyle. We offer programs and events that support whole family health in order to strengthen the communities we serve.

In addition to these intangible gifts, such as wellness tools, hope and belonging, we believe every child deserves a tangible gift to open on Christmas Day.
 
Supporting Our Community

Over the last 20 years, the YMCA of the Suncoast and our eight branches have provided children in our communities with holiday gifts from the Giving Tree program.

The Giving Tree program provides gifts to hundreds of thousands of children in the country each year.

Many of the children who receive gifts from the Giving Tree donations are in the YMCA Before and After School Care program and receive financial assistance.

Once a child has been registered and accepted to the program, their name, age and Christmas wish list are shared with YMCA community in the form of a paper angel ornament hung on the Giving Tree. Individuals can select a child of their choosing and purchase them a gift or two! The gifts are then distributed to families in the program to place under their family Christmas tree.

The Hernando County YMCA branch supports roughly 120 to 150 children in the Brooksville area. 

Amber Slusser, the Executive Director shares, "I think the Giving Tree program gives the members the opportunity to have another way where they can give back to the community. Our members get involved because it enhances their connection to our cause and the Y community."

This fun, holiday-related activity brings extra joy to everyone involved.

Members of the Hernando Y look forward to this time of year because they enjoy the holiday fun with the kids' Giving Tree gifts, and the partnership with Home Instead's "Be a Santa to a Senior Giving Tree Program" for seniors who do not have family nearby to celebrate the holidays. 

Member engagement in the Giving Tree program showcases how our community takes on social responsibility by caring for their Y family and keeping them connected through community support. Uplifting one another, through the good and the bad, can have a positive impact on participants, even beyond the holidays.

You can pick up a Giving Tree ornament and purchase your gift, or you can donate directly and the Y of your choosing will use your funds to purchase needed gifts!


Published Tuesday, Nov. 29, 2022.