Sharing Success and Motivation
Peter Montanez is a member of the YMCA OF THE SUNCOAST, he now calls the Clearwater Y his second home, but that hasn't always been his story.  Before joining the Y, he was smoking and drinking. 

At that time Pete weighed in at 383 pounds. The weight made it a struggle to enjoy playing his favorite sport, basketball. He knew he was very unhealthy and wanted to make a change.
In June 2016, he started a walking regimen on his own.  He dropped 33 pounds, but he had no motivation to continue his weight loss journey.  So, he went looking for some inspiration.
In August 2016, he decided to get his family a membership to the Clearwater YMCA. The whole family attends together.  They're at the Y no less than five days a week.  Some days for up to four hours. They utilize every part of the facility; weight room, classes, the track, swimming pool and sauna. Plus, he has been playing basketball without a struggle.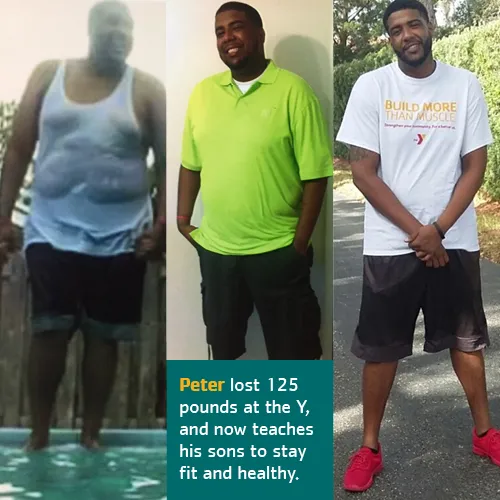 His first experience with the YMCA was doing something he loved, playing basketball as a kid.  He's proud to be able to include his family in his new habits.   He is teaching his two sons the importance of staying fit and healthy through his own example. 

The Y is just a five minute walk from his home. Each Wednesday morning he plays basketball, and attends ab and cycling classes in the evening. 
In the past six months, Peter worked hard to make life-changing results. He credits the friendly and helpful staff at the YMCA for encouraging him along the way and making him feel welcome. 
We appreciate the credit, but Peter deserves the accolades for his dedication, making daily changes and being a great role model to his sons—ask anyone who has seen his transformation.

"Today, with the assistance of the Clearwater YMCA, I have lost an additional 125 pounds, bringing my weight down to 225 pounds," Peter says proudly.

"I would like to thank the YMCA and the staff for helping me work to obtain my health and wellness goals." 
We thank you, Peter for sharing your story. We are very proud of you and your hard work. Keep it up!