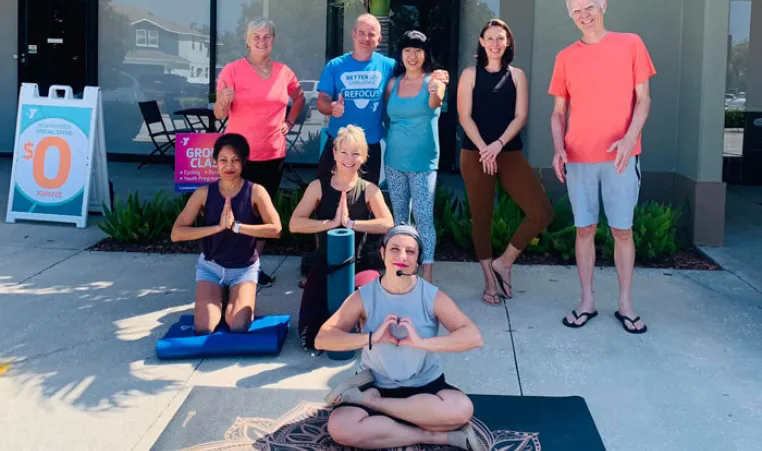 Clearwater Y in Motion staff and members smile for a picture outside the new facility!
A New Beginning
After serving the area for over 50 years, the Clearwater YMCA (now known as Clearwater Y in Motion) temporarily closed its doors and began serving the community in a unique way. When the Learning Independence for Tomorrow (LiFT) Academy took ownership of Y's original space, LiFT generously leased a portion of the building to the new Clearwater Y in Motion while we began looking for a new home to serve our community, members and staff.

During this transitional time, our staff continues to offer community-based programs and events that meet our members where they are by providing out-the-box programming like beach yoga, outdoor BodyBalance, cycling and much more!

Today, the Clearwater Y in Motion operates out of LaBelle Plaza, located at 1535 S. Highland Ave. Upon signing the lease of the new building, the Y team began renovating the space to suit the needs of our members.
Expanding our Facility
The Y is currently occupying two storefronts with dedicated spaces for Group Exercise, Group Cycling and a small Kids Zone. In the coming months, the plan is to occupy three storefronts, which will expand the new space! Specifically, the current Kids Zone will more than double in size, the current Group Exercise studio will gain a little more space and will provide a multipurpose space for many programs for all ages.

Seth Milbrand, District Vice President shares, "The expansion of the storefront will greatly benefit our Active Older Adult community, along with our teen and youth programs. We will be able to provide social programming, games, youth taekwondo, dance and breakdancing classes. The space will ultimately allow us to serve even more kids, adults and families in ways that our community has come to expect from us!"
Today and Beyond
Our Clearwater Y in Motion Staff are committed to continuing to serve the Clearwater community for years to come. We encourage all our readers, donors and volunteers to come and visit our new location and see firsthand the outstanding services we provide.

The Y in Motion branch model allows the Y to offer innovative new ways for members to engage in YMCA programs they know and love, while reaching a new audience of potential members.

Published Tuesday, Nov. 29, 2022.