Family Health Month
Every family can be a healthy family
At the YMCA of the Suncoast, we understand that health begins at home, and we support families in their efforts to build the five pillars that support a healthy family home.
Another way to look at these pillars of building health is to think of them as FUNdamentals. That's right FUN.
• Eat Healthy
• Play Every Day
• Get Together
• Go Outside
• Sleep Well
Likewise we encourage families in their efforts to start a healthy family home. By helping families to focus on the small steps that form the foundations of the pillars, we can help them feel stronger, healthier, and more connected. Every family can be a healthy family.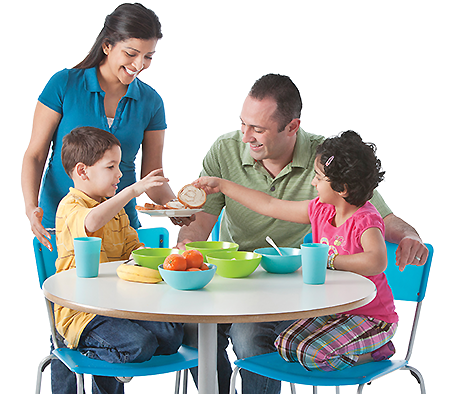 By focusing your family's efforts to live healthier around the Y's pillars of a healthy family home and taking small steps using the information and tools we provide, your family will soon be feeling stronger and living healthier.
Eat Healthy
At the Y, we believe that small steps lead to big changes. With a balanced approach and diet, even the busiest families can discover ways to eat healthier and feel better. Remember the old cliché? You are what you eat.
Play Every Day
Play may be the best way to prevent childhood obesity. Go "old school" and play outside. Ditch the electronics and play in the backyard or park.
Get Together
It's all about relationships. In fact, it's always about relationships. Especially important is the bond between adults and children.
Go Outside
Great things happen when we unplug and go outside to play together. It's time to drain your personal batteries by having contact with nature as well as unstructured play and exploration. If it's you and your best "four-legged" friend, go for a walk.
Sleep Well
So many good things happen when our body, mind and muscles are resting.
We'll breakdown each of these pillars or FUNdamentals on our site. Stay tuned!