Become a Member of our Heritage Club
Together, we can build stronger, more inclusive communities, provide support for families and promote positive change overall. You can impact generations to come by becoming a member of the Heritage Club.

Since the Young Men's Christian Association of the Suncoast, Inc. (DBA YMCA of the Suncoast) was founded in our community in 1957 thousands of our neighbors and friends have personally benefited from the Y's commitment to strengthening community.

The YMCA Board of Directors has created an endowment fund and Heritage Club honoring those who have made a commitment to provide for the future of our YMCA through their estate plans.

Heritage Club Members, by their current or planned gift, ensure that the values of caring, honesty, respect, and responsibility endure and that Y programs will positively impact our community for generations to come.

To discuss becoming a member of the Heritage Club, or if you would like to have a confidential conversation regarding this decision, please contact our Philanthropy Advisor, W. Ben Prewitt at 727-467-9622 or bprewitt@suncoastymca.org.

Common Estate Plan Donation Types
WILL AND TRUST

IRA CHARITABLE ROLLOVER OR QCD

CASH

CHARITABLE REMAINDER TRUSTS

BENEFICIARY DESIGNATIONS

REAL ESTATE

APPRECIATED SECURITIES

TANGIBLE PERSONAL PROPERTY

CHARITABLE LEAD TRUST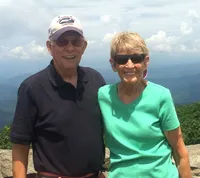 Frank and Toni Kenny have called Citrus County their home since the 1970's. For over 30 years, Frank has either volunteered with or worked for the Sheriff's Youth Ranch. His deep passion for helping young people also drove him to support the YMCA in Citrus County.

Frank shares, "The YMCA is a great place for kids to go to make friends, learn healthy habits, and stay out of trouble. Young people need guidance and they need to know that someone cares. The Y offers so many after-school programs and camps for kids to participate in with people who really care about them."

Toni added, "I love that the Y includes the entire family by offering a multitude of services that support healthy lifestyles. The Y is all-inclusive – with a diversity of programs for people from all walks of life – children, young people, parents, seniors, and people with disabilities – the Y has something for everyone and all feel welcome and supported in their fitness goals." 

Frank and Toni have been long-time supporters of the YMCA Annual Giving Campaign which helps to support the Y's ability to provide financial assistance and needed programs in the community. Recently, they decided to become Heritage Club members and provide support to the Y through a gift in their estate plan.

"It was important for us to ensure that our gift goes on to continue to support the children and families in our community who need it most. Citrus County has definitely benefitted from the YMCA and it is our hope that it will continue to grow and offer programs to support healthy lifestyles for people of all ages," said Frank.
Frequently Asked Questions Related to Our Heritage Club

Tax Information for Charitable Giving
Legal name: Young Men's Christian Association of the Suncoast, Inc.
Address: 2469 Enterprise Road, Clearwater, FL 33763
Federal tax ID number (EIN): 59-0810731
 
Established Estate Plan Donors
Please let us know if you have already made a provision for the Y in your estate plans and would like to be recognized as a Heritage Club member. Contact W. Ben Prewitt 727-467-9622 or bprewitt@suncoastymca.org.



Information contained herein was accurate at the time of posting. The information on this website is not intended as legal or tax advice. For such advice, please consult an attorney or tax advisor. Figures cited in any examples are for illustrative purposes only. References to tax rates include federal taxes only and are subject to change. State law may further impact your individual results.

A COPY OF THE OFFICIAL REGISTRATION AND FINANCIAL INFORMATION MAY BE OBTAINED FROM THE DIVISION OF CONSUMER SERVICES BY CALLING TOLL-FREE WITHIN THE STATE 1 800 435 7352 OR BY VISITING THE WEBSITE, WWW.800HELPFLA.COM. REGISTRATION DOES NOT IMPLY ENDORSEMENT, APPROVAL, OR RECOMMENDATION BY THE STATE. REGISTRATION #CH1176.