CEO Newsletter - Volunteering for Camp
A message from CEO/President G. Scott Goyer
Hello YMCA Friends,
In communities large and small, from Largo to Lecanto, and everywhere in between, the YMCA of the Suncoast is at the heart of the community. Hurricane Irma may have slowed us down, but there is power in our community.  
A lot of that power comes from our volunteers. More on our volunteers in just a bit.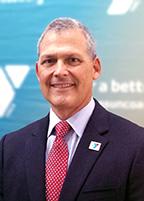 I hope everyone and everything made it through Mother Nature's test last week. We know that when we work as one, we move people and communities forward. That's why we are committed to providing support to our neighbors.
I'm proud that our Y was able to serve 230 children in our makeshift camps while school was out. The parents who took advantage of this service were extremely grateful, as many had to go to work but had exhausted their care options.
We also had 361 community members take advantage of our offer to use the Y as cooling stations, to charge their cell phones and to take showers. I am so proud of our staff who responded quickly and creatively with compassion and sympathy to all we served.
Now back to our volunteers. In particular, one from the Clearwater Y this summer- Callie Poznan. She's a teenager that moved to the area and like most teens thought she'd have trouble making new friends. Thanks to her grandmother and Callie's eagerness to volunteer at Camp COAST (Children on the Autism Spectrum Together), she made a difference in these young campers lives. Please read Callie's letter to our branch executive at the Clearwater Y. 

If you find the need to volunteer at our YMCA of the Suncoast please register here. Thank you! 
In Service,
G. Scott Goyer