Golf for a Great Cause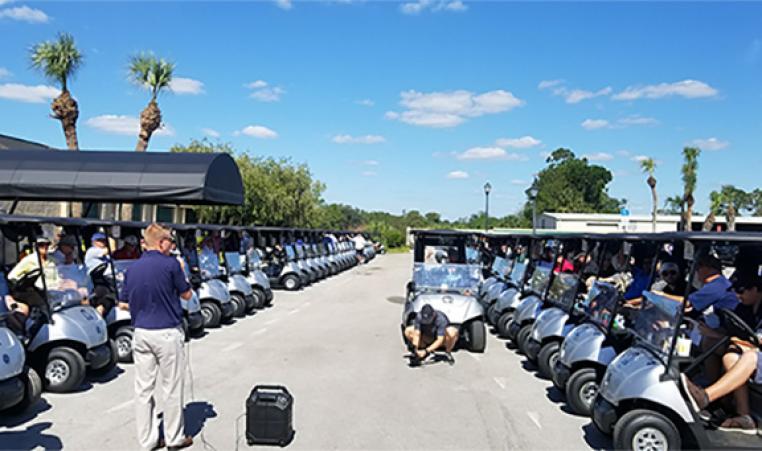 24th Annual Charity Golf Tournament
The J.P. Gills Family YMCA 24th Annual Charity Golf Tournament will be on Friday, September 28. The event will be held at the scenic Seven Springs Golf and Country Club in New Port Richey. Registration is limited to the first 120 participants. This will be an excellent day on the links while helping the Y with their mission to strengthen the community.

The event tees off with a lunch and registration from 12-1 p.m. This is a four person scramble tournament with a shotgun start at 1 p.m. Each golfer will receive a polo shirt, goody bag, lunch and buffet dinner. 
Register at the James P. Gills Family YMCA in Trinity or email dhoyt@suncoastymca.org for more information. 
Prices to register: $100 Per Person and a $500 Corporate Sponsorship 

Corporate Sponsorship
Please download, complete, and submit: Gills Golf Sponsorship 2018.pdf 

To complete and submit a credit card payment for Sponsorship via secure online system, please see: Gills Golf Sponsorship Secure Payment
Last year, we had a great time raising more than $12,000. The Y was able to help more than 520 families with financial assistance in our community.
We also provided about 350 children with free swim lessons in our Safety Around Water Program.
There's many changes to participate and also win some fun prizes.
-Double your money hole
-Longest Drive
-Closet to the pin
-Putting Contest
We are looking forward to seeing you on the course!



A COPY OF THE OFFICIAL REGISTRATION AND FINANCIAL INFORMATION MAY BE OBTAINED FROM THE DIVISION OF CONSUMER SERVICE BY CALLING TOLL-FREE WITHIN THE STATE 1 800 435 7352 OR BY VISITING THE WEBSITE: WWW.800HELPFLA.COM.
REGISTRATION DOES NOT IMPLY ENDORSEMENT, APPROVAL, OR RECOMMENDATION BY THE STATE. REGISTRATION #CH1175